I have been so busy the last few weeks getting ready for TNNA show in two weeks.  Ahhhhh!  But I'm squeezing in a quick blog post.  The Wonderland Heart came back from the finisher and it is just to die for!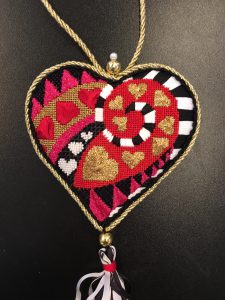 I love the tassel that my finisher puts on.  The finishing goes from drab to fab with that!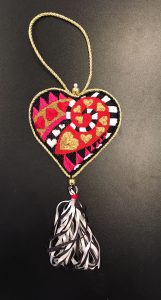 How cute is the fabric for the back.  I have to give Linda the credit for the finishing ideas on this piece.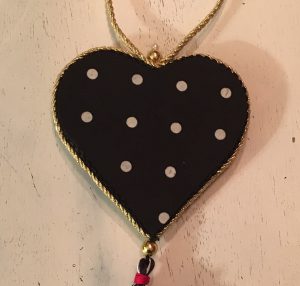 You probably already know that this piece is one of the three pieces featured in the Go Red with Thread fundraiser for this year.  A portion of the proceeds will go to the American Heart Association.  We have them in stock at the shop right now.  Don't wait too long to order your kit because I'm sure we will be sold out of them at the show.  You can call the shop to order or you can purchase the kit online.
Time to get back to stitching, painting, writing stitch guides and editing pictures.  I hope I can get it all done!