Yesterday I got a text from a dear friend of mine, Katie, who moved to Dallas last year after she got married.  She had a great idea to needlepoint a stocking for her new husband as her wedding gift.  She stopped by the store around the holidays almost two years ago and picked out the New York City stocking by DJ Designs that I had stitched for myself.  She picked the design because they met in the city.  She worked with me on the stocking over the course of nine months.  She was stitching down to the wire to get it finished, trying to keep it a secret the entire time from her fiance.  When they would chat at night she would make up excuses as to why she couldn't face time with him so she could stitch.
He was over the moon with his gift.  So much so, that apparently her entered her stocking into the Texas State Fair without her knowing and SHE WON SECOND PLACE!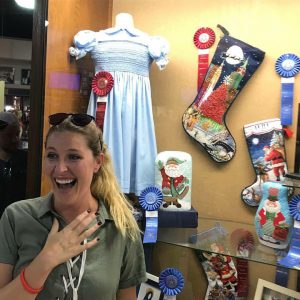 This was her first needlepoint project.  She is totally inspired to do another stocking now!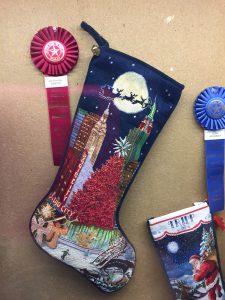 I'm so proud of her and all of my students that work with me privately or in studio time.  You all do such amazing work.  Next year, Katie . . .first place is yours!