Sorry I didn't port last week.  It was a CRAZY week!  We had a wonderful long weekend away in Vermont skiing over the holiday weekend.   So needless to say my Monday blogging and computer work didn't happen last week.
 My little guy took a lesson learned how to ski.  There was no stopping him once he got the hang of it.  He's gonna be hard to keep up with on the slopes soon!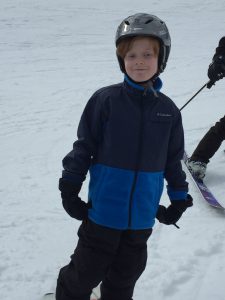 I have to say, I was a little shell shocked at the price of an hour ski lesson.  $140/hour!  This got me thinking about when people say needlepoint is such an expensive hobby.  Let's break it down.
Let's take a 4 x 4 canvas, like one of Melissa Prince's movie coasters is around $55.   It takes the average person about an hour to stitch a square inch in basketweave.  Threads obviously vary from piece to piece.  But let's just say the threads cost $50.  Depending on how you finish the piece, that can vary greatly, as well.  I've finished the coasters many ways . . .framed, pillows, coasters.  So we'll say on average the finishing is $100.  That's 16 hours worth of entertainment and sanity with a completed project for the bargain price of about $205!  Doesn't sound so pricey now. . .does it?
I've always felt as long as you're doing something you love, you can't put a price on the satisfaction and the way it fills your soul.