Well. . . I'm just back from a much needed vacation in St. Thomas with my family.  So relaxing.  Beautiful weather.  Gorgeous beaches.  Delicious cocktails.  What more could a girl ask for?
It drove me nuts that I didn't get to finish this piece before I left.  So, of course i had to wrap it up as soon as I got home.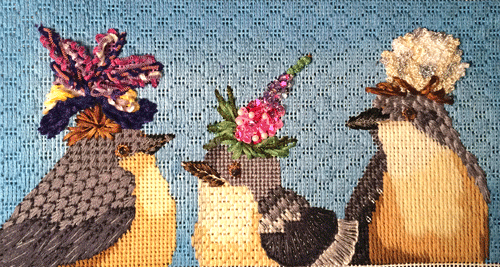 I'll be teaching a class in the store on May 30th from 10-3.  Call the shop for the details.  203-210-5107
I found this canvas to be quite a challenge to stitch on 13 count canvas.  Don't get me wrong. . . I LOVE 13 mesh.  But, this piece is kind of small and too detailed.  So, unlike my usual open work that I do, I felt these guys needed to be full coverage.  I haven't stitched like that in years!  So, to capture the beautiful painting, I used three or four shades of the threads to recreate that.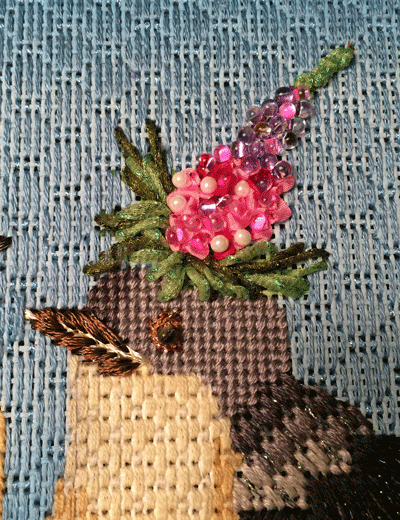 This was such a fun piece to stitch.  Endless possibilities on the hats.  This little birdie got a hat made of silk ribbons and drop beads.  And I just realized I'm not done!  She needs a bead on the tip of her hat.  Uggggghhhh!  I hate when that happens!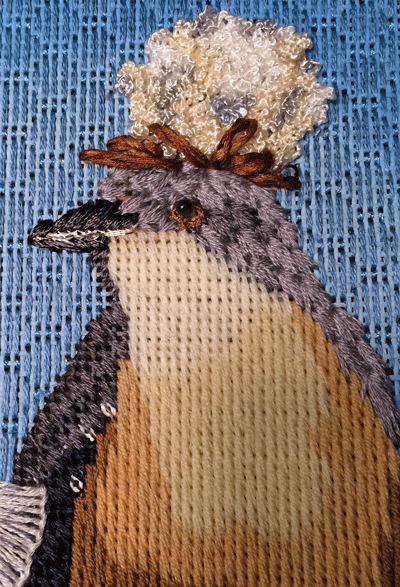 I found this hat to be the most challenging.  My initial thought was to do Turkey Work for the white poof and lay some rouched Pepper Pot Silk on top.  So, I thought I would play with some Boucle.  Colonial Knots with that thread are not pleasant.  But well worth the result.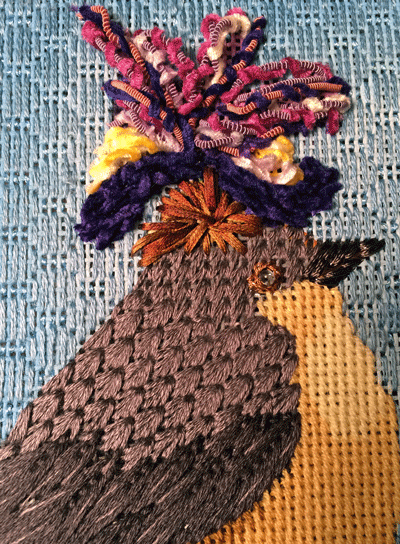 This hat I am most proud of.  I wrapped Silk Wrapped Pearl Purl with Chenille for the top part.  Then for the bottom of the hat I twisted two strands of Chenille together and let the puff up on the canvas.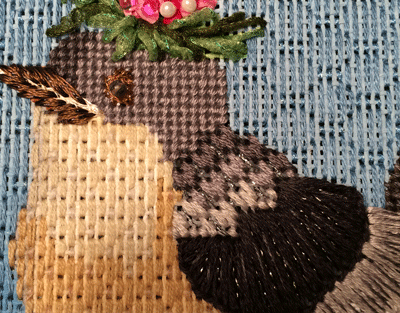 Check out the wing on this little guy.  I did two sets of buttonhole stitch.  The problem with Buttonhole is that you can't get the shading unless you use an overdye.  And that's very difficult to control the shading.  So . . .I did a little needle painting within the Buttonhole.  My husband was very impressed with that.
If you can't make it to the class, kits are always available.  Also, you can always set up a lesson via Skype or Face Time with me. We have two spots open in the class.  So don't hesitate to sign up.  The stitch guide will be available after the class through The Enriched Stitch.  The stitch guide is $50.
I have lots to share with you from my vacation.  Both personally and what I was stitching.  Now. . .off to write that stitch guide!