Yesterday I spent the day in NYC at the Gift Show.  There are so many exhibitors there.  It was totally overwhelming!  I don't think we got through a third of what was there.  BUT . . .we did find some really awesome new things for the shop.  We have new custom boxes and coasters coming that are self finishing.  I found tons of new tote bags and project bags.  It was such a blur.  I have so many catalogs to pour through!
Amanda (as in Lawford lol) came with me.  What an eye she has for finding new products and developing them with the manufacturers!  It's almost like the needlepoint designs just appear in her head when she sees something they can be applied to.  Let's just say that there will  be lots of new designs coming in the next few months.
As we were wandering through, all of a sudden we spotted Fab Funky herself!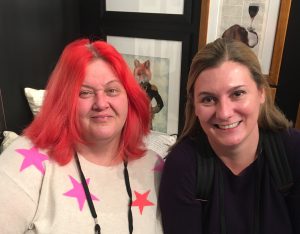 Kelly is such a doll.  She is dying to see the pieces stitched.  I better get that needle moving!
I'll be honest . . .I am SO over trade shows right now. LOL!  But it was really nice to be back on the buying side instead of being buyer and exhibitor.   Thank God Dallas is seven months away!