Hot off stretcher bars!  The new design by yours truly for Vallerie Needlepoint Gallery for our 3rd annual Go Red with Thread Fundraiser to support charities for heart healthy causes!
Patchwork Heart – Vallerie Needlepoint Gallery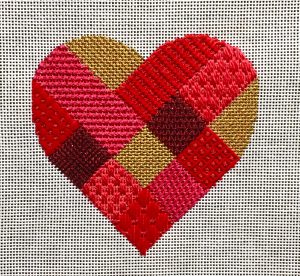 If you're not familiar with this, I'll tell you all about it.  A few years ago, a customer of ours, Bill, new to stitching at the time, started stitching to do something to chill out.  He tried yoga, meditation (got kicked out of that class) and a few other things.  His neighbor suggested he try needlepointing. A few weeks after we met him, he came back with a finished piece and said that his blood pressure had dropped 10 points since he started stitching.  I know we've heard this before, usually in regards to knitting (ugh  . . .sorry to all you knitters out there lol), but why can't needlepoint get the same nod?
So, I worked with three designers for the first two years, Amanda Lawford, Melissa Prince and Leigh Designs to come up with some really cool designs for this fundraiser.  I've been a little sidetracked this year with everything that's been going on, two trade shows, moving the shop and a retreat, so we've got one really cool piece.
I call it the "Patchwork Heart."  What's really cool about this piece is that there are 13 different stitches, so it works as a teaching piece and a sampler for you to use on other pieces going forward.
The Enriched Stitch will be hosting a stitch in on February 9th.  It's a $25 donation to attend.  Please register in advance because this event fills up really fast.  Lunch is included and you can stitch on whatever you want.  Or, you can work on this heart or any of the Go Red with Thread pieces from previous years.  I'll be teaching a class on the heart from 1-3 that day.  All the previous kits are featured below and we can certainly put any of them together for you.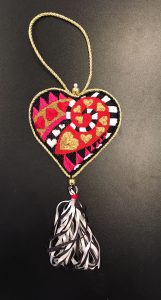 Wonderland Heart – Amanda Lawford/Vallerie Needlepoint Gallery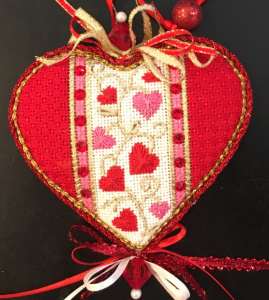 Heart of Hearts – Amanda Lawford/Vallerie Needlepoint Gallery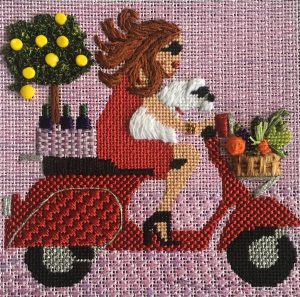 Mediterranean Diet – Melissa Prince Designs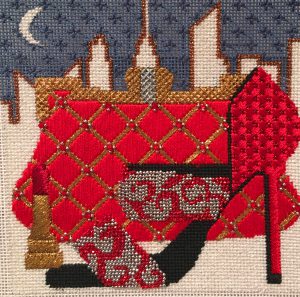 Paint the Town Red – Melissa Prince Designs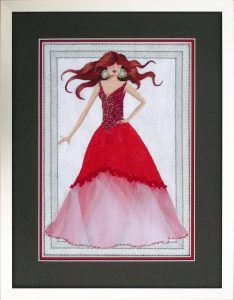 Lady in Red – Leigh Designs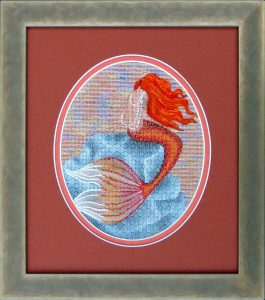 Red Tails at Sunset – Leigh Designs
I know I have followers all around the world and you can't possibly attend our stitch in.  But, here's the good news.  . .any shop can hold  a stitch in and participate.  So, contact your local shop and see what they've got going on.
All the kits can be ordered online or give us a jingle in the shop!  203-210-5107
My piece went off to the finisher today.  I can't wait to get it back!