Isn't she fabulous?  I could see this gown gracing the runways of Oscar de la Renta.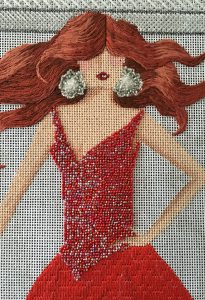 I knew I wanted to bead the entire bodice.  Well, needed . . .not wanted to bead it.  But when she's in the spotlight, boy does she sparkle!
Here hair is done completely in packed stem using five shades of Planet Earth silk.  I've decided that if all else fails, I'll go into coloring hair.
Then she needed some fabulous jewelry to go with her gown.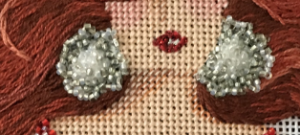 I used a few different beading techniques to create these beauties.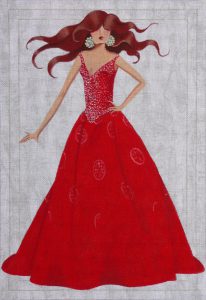 The original design was painted with a full red skirt.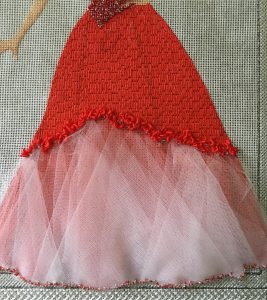 I've been dying to try to applique fabric onto canvas.  Here was the perfect opportunity.  Originally I wanted red tulle.  But when I went down to my fabric store, what they called red, I would call hot pink.  So, I thought before I scavenge all over Manhattan for red tulle, I'd try this out with white tulle.  I love that the red shows through.  I used a breading technique to hold down the tulle at the hem of the dress.  You should have seen it before I did that!  I wish I had a picture.  It was so puffy and sticking out everywhere! Then I had to hide the top edge where I attached the tulle.  A little ribbon goes a long way!
The Lady in Red, as Leigh named her, is available through any store participating in the national fundraiser Go Red With Thread.
You must order your kit before November 1st to make sure that she is on time for her runway debut in February.
You can call the shop to order or click here to order online.
 And like I said, she can be ordered from any needlepoint store that is participating in the event.  Check with your local shops.
Now I better get to writing up her stitch guide.  Hope I remember how I did everything!
 You can read more about the details of the fundraiser on our website.