Kathy Schenkel has the most adorable designs! They come to life with all the fun threads that are available to us.  She has such a wide variety, travel and college ornaments to Santas and Christmas, baby designs, mini stockings, the tiny inspirations (our favorite in the shop) . . .and SO much more.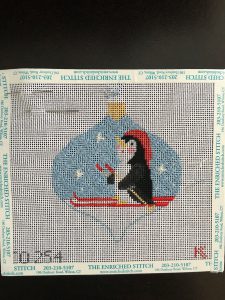 I started this little cutie pie on Saturday.  You know me and my penguin problem. LOL!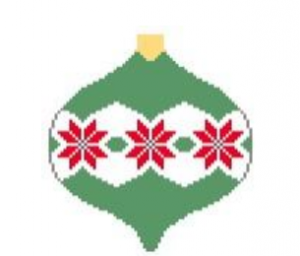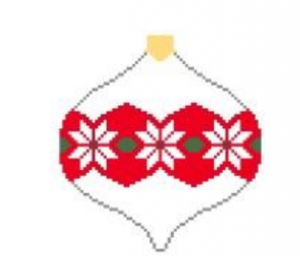 I think these baubles would be so pretty stitched with metallic threads and some silk ribbon.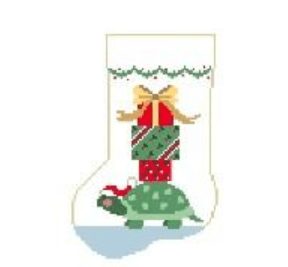 This guy cracks me up!  He jumped into my stash the other day.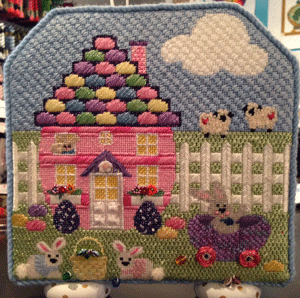 My friend Nancy taught her Easter backdrop as a class before I opened my store.  So stinkin' cute!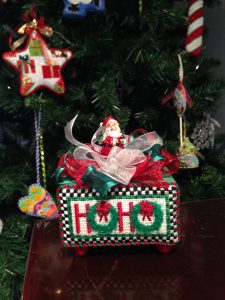 Mary Susan stitched this Tiny Inspiration a few years ago.  This could be the cutest finishing I have EVER seen!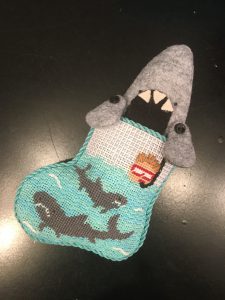 I stitched this mini stocking for my shark obsessed son last year.
Here's the cool thing about this trunk show . . .the more you buy the more you save!  One in stock canvas is 10% off.  Two in stock canvases are 15% off.  And three or more in stock canvases are 20% off!
How can you really stop at just one canvas? LOL!  They stitch up quick . . .perfect purse projects.
The other awesome thing about this trunk show is that if you kit up a trunk show canvas you'll receive 10% off the threads for that canvas.  BONUS!
Check out Kathy's website and give us a shout if there's something you've gotta have.  The shop is closed today, due to more snow.  UGH!  But you can email me or touch base with us tomorrow.
203-210-5107   enrichedstitch@gmail.com