This might be the winner for me this year of the star of the show.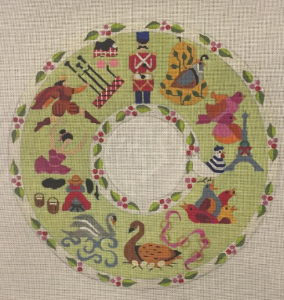 This advent wreath is designed by Melissa Prince.  This is the most clever way of designing a 12 Days series I've ever seen. One finishing . . .but so many finishing options.
It could be a wreath, a pillow, monogram the center or have something like"Joy" or "Noel" painted in the center.  It could be a tree skirt for a table top tree.
It's 13 inches in diameter and is on 18 mesh.
I can tell you right now that this will DEFINITELY be a stitch along kit available through The Enriched Stitch in July.  I wish I could say it would be sooner.  But, since it is a brand new canvas, I won't have my copy until the end of March.  And despite how quickly I stitch or that everyone thinks I never sleep (which I do sleep plenty lol) I'm going to give myself a little time to get the guide written and the kits together.
So, if you want to join in the fun, give us a shout and we'll add you to the list.  The canvas is $185.  I'm not quite sure how I'll work the stitch guide installments yet.  But I'll keep you posted.
Wait till you see the beads that I have for the holly berries. To die for!