Gotta love the third grade projects my son has to do for school this week. He's supposed to write about a family tradition that we have during the holiday season.  I think the teacher is looking for something from our heritage, but honestly, we're mutts from all over Europe, so we don't have a particular tradition in that regard.
So, I put on my thinking cap and told him he should write about how I make him a needlepoint ornament every year.  This year, he picked out which canvas he wanted me to stitch.  I'll tell you all about that ornament when it comes back from the finisher in a few days.  It's a really good story.  You better get the tissues when I post that blog!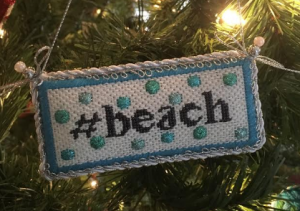 This year I stitched him this hashtag sign from Kristine Kingston.  We've been renovating our basement the last few months and he and I have decided that we are going to turn it into a beach house.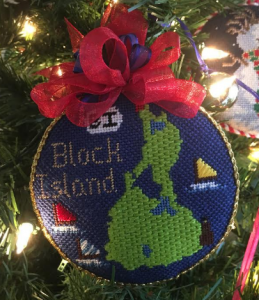 My husband's family has been going to Block Island every summer since before he was born.  We've been going almost every summer, but unfortunately had to skip this year.  I've been working on this travel round from Silver Needle for two years now (I think). It was time to just put that darn needle in and out of the canvas and get it DONE!  These make excellent gifts.  They have nearly every destination you can think of.  Tuck that little thought away for your gifts for 2017.