Stitch along with us!  We just couldn't resist this canvas.  I put one up in the shop and 10 people have signed on to stitch along with me.
You can join us via Skype or we can send the thread kits and stitch guide to you in 6-8 installments.
Canvas: $400   Dimensions: 20 x 8 1/2   Mesh: 18
Class Fee: $20/class     Thread Kits: TBD   Stitch Guide: FREE with the purchase of canvas and threads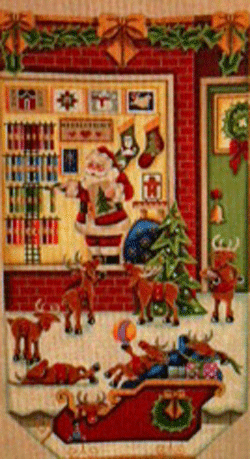 I will break the canvas into 5 or 6 sections.  This makes a large and overwhelming piece manageable.
A little peer pressure in class participation always helps me along!
I'll be posting my progress right the day of the class.
This will help anyone participating long distance or via Skype will have detailed pictures to guide them.
First class scheduled for Sunday March 24th 1-3
Call the shop 203-210-5107  or email enrichedstitch@gmail.com to sign up