Sorry this post is so late.  I've been inundated with doctors appointments lately.  Don't worry . . .I'm all good.
Here is the free stitch guide for the Amanda Lawford  reindeer ornaments.  The best part is that they are 4 inch rounds on 13 mesh!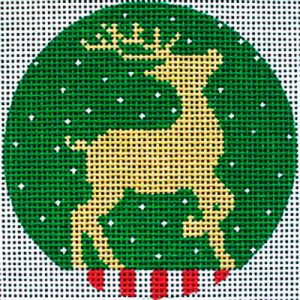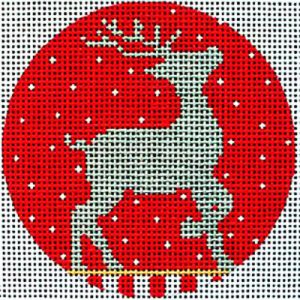 Mary Susan and Linda stitched this adorable little ornament.  Isn't the finishing fabulous?!!!!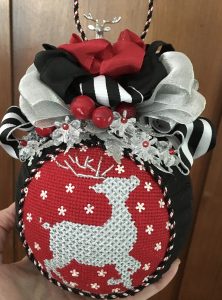 They made a change to the bottom border and made it black and white.  You can do that or keep it the original colors.
4371  Red Background
Thread List
Vineyard Silk C-007 Holiday
Entice E202, E302
Petite Very Velvet V601
Kreinik  1/16th ribbon 221
Snowflake sequins and white beads
The Collection Silver Bugle beads BGL1-001 S/L crystal
Basketweave the red in Vineyard Silk, completely covering the canvas.  I actually took a red sharpie and covered the white spots.
Woven Stitch with Entice E302 on the reindeer
Gold Band 221 tent stitch
Basketweave the Red and white stripes.  Using a black sharpie, cover the red stripes before stitching.
4370  Green background
Planet Earth Silk Jelly Bean 099
Entice E202, E310
Petite Very Velvet V601
Basketweave with Pepper Pot 099 covering the white dots
Reindeer woven stitch with Entice E302
Stripe using a black sharpie or acrylic paints  paint the red stripe black and basketweave the stripes.
Let us know if we can put a kit together for you!
203-210-5107