The CBK trunk show ends this week. If you've missed "Suzie's picks" on Facebook,  here are some of my favorite pieces from the trunk show.
All the canvases are 20% off and include a FREE stitch guide!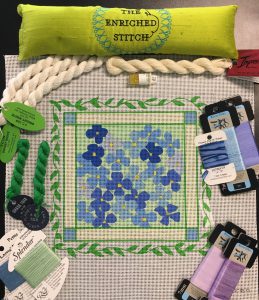 I think this piece would make the most beautiful pillow, inset in a periwinkle fabric.  A cool stitch for the off white border . . .a little ribbon work (nothing over the top), maybe just some gathered stitch and French and Colonial knots.  And voila!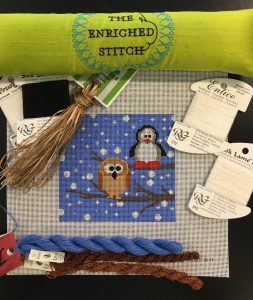 You know I've got a think for penguins.  They're just too cute!  I see Rhodes stitches in the sky for the snowflakes, maybe repousse for the branch.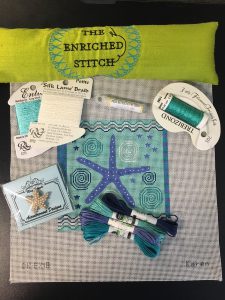 I just love the colors in this piece.  And how about the magnet?  LOVE it!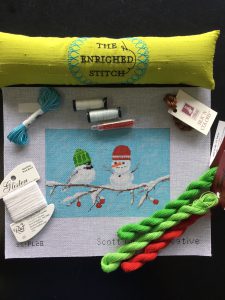 Scott Church pieces crack me up.  Each one is cuter than the next.  I didn't put it in the picture, but as I look at it while I'm typing, there should be some Flair in this piece to make the snow on the branch with a gathered stitch.  The hats could be done in Kalem or a wrapped kind of embroidery stitch I often use to make scarfs, hats and sweaters.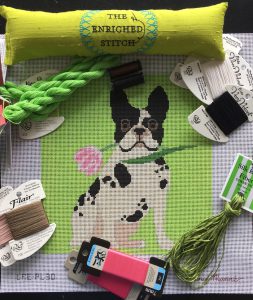 Let me start with I have no affinity for French Bulldogs.  But I love the colors in this piece and he's just too cute.  You could do a really cool open background stitch with a large pattern, which makes a background really interesting without overpowering it if you use a thin thread like Impressions.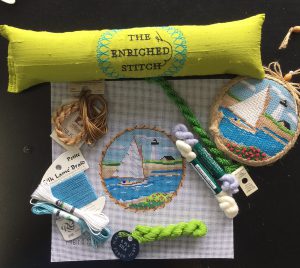 I can't take credit for this piece.  Mary Susan stitched this a few years ago.  The finishing on it makes me want to stitch it!
Take a look at the CBK website and give us a call if there's something that catches your eye.  We're full of creative ideas for these pieces!