DONE!  DONE!  DONE!   I love this piece.  It was so much fun to do.
Now I just have to wait for my lucite tray to arrive to send off to the finisher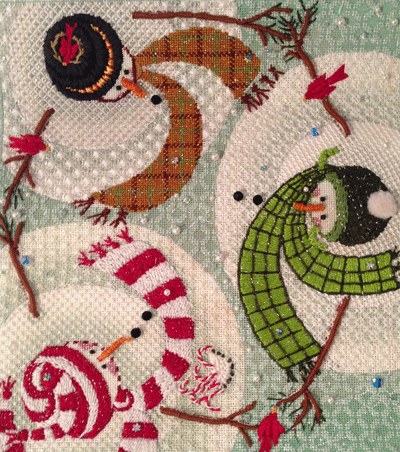 We were supposed to have the last class this morning.  But, since we are buried under 2 feet of snow, we're going to shoot for tomorrow.  So, I thought I would share all the details today while I'm hanging out at home.
Canvas: $140
Kit: $149
Stitch Guide: Included (no charge) with the purchase of canvas and threads.  Stitch guide available for purchase separately $75
The top hat is padded in some sections and satin stitched on top using different sizes of RiverSilks
The inner body of the snowman.  Yep, there's beads.  And lots of them!
The outer body was a snowflake trame stitch.  Thank you Julia Snyder!
The bright red cardinals sit atop the arms that are memory thread wrapped with perle cotton
Gotta love that corkscrew stitch!
I was determined to make a Burberry scarf.  Plaiding was the answer, even though it doesn't curve.  It's a cool technique.  Only to be done when one can pay attention.  This is not a stitch that goes well with a glass of wine.  Too much counting!
Recap of the red snowman's hat.  Raise buttonhole done on a curve
This hat used 3 techniques: Raised buttonhole on a curve, wrapped spider and turkey work
 I'm always looking for new techniques and stitches.   I hope you've enjoyed looking at this piece.  If you are interested in purchasing any part of the kit, please email or call the shop.  enrichedstitch@gmail.com   203-210-5107
Off to finish the peacock ginger jar!