What haven't I been up to?  Actually, I've been taking a little time to myself this summer, with my little guy out of school.  It's been lovely! A lot of stitching going on.  I'm closing in on the Yellow Bunny for the club, working on the Americana Club, finished my piece that I will be teaching at the Dallas market, the retreat piece, and so many other pieces.  I will admit, I have a problem.  I'm a serial starter.  For all that I do finish, you guys never see all the WIP's I've got going.  One of these days they'll get finished.
So, I've been loving these new J & J pieces.  So much fun to stitch.  I know I said I would post pics a few days ago, and was called out on my lack of posting by my friend Kim.  So here it is.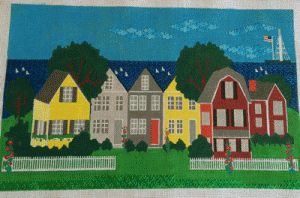 I thought I would challenge myself on this piece.  I am not going to do any stitches that I have done before.  Except for some French Knots, Colonial Knots or Lazy Daisies in the tress and bushes.  Really, what else can you do?  We'll see.

I've been using a ton of stitches from the Landscapes book and Ins & Outs.

This water stitch was so quick!

I thought I would randomly place this cloud stitch throughout the sky.  Working out so far.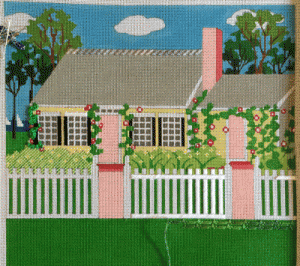 This is the second piece that I'm working on.  I just want to live here.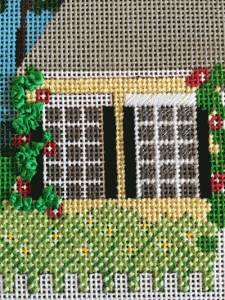 I'll keep you posted.  Stitch guides will come at some point, when I finish.  We have both of these canvases in the trunk show.  So snatch them up while they're on sale!