Back in January, I showed you my favorite canvas that debuted at the January trade show.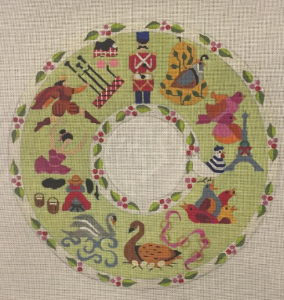 This Twelve Days of Christmas wreath by Melissa Prince is simply fabulous!  So many elements to keep you entertained throughout stitching the whole canvas.  And the best part about it is that it is only one canvas and one finishing!  Usually this design concept comes in 12 ornaments.  Let's be serious . . .who's getting through a series of twelve canvases?  Not me!
Customers have suggested some really interesting finishing ideas.  I'm going to finish mine as a wreath.  But you could also write something in the center, such as "Noel" or a year and square the piece off and make a fabulous pillow.  It could lay flat on a table and you can place a votive candle in the center.  So many possibilities!
My copy of the canvas came in a few days ago.  I just love when all the new canvases from the January show start pouring in.  And boy have they been filling the shop!
I've been stitching away on the piece since so many people were interested in doing a class or stitch along.  So here's how it's going to work.  We will ship the canvas, entire thread kit and first installment of the stitch guide in July.  So that means you have to sign up by May 5th to make sure that we have a canvas for you.  There will be 4 installments of the stitch guide.  I will email a PDF of the guide each month after the first shipment goes out.  The canvas is $195.  I have no idea what the thread kit will be yet.  I just started the piece!  The stitch guide will be $20/installment.
And here's an added bonus . . .once a month we will get together in the shop on a Saturday morning to work on the piece and I can help you with whatever you need help with.  If you don't live around here, and I know many of my readers don't, you know you can always call or email me with your questions.  Think of it as "Needlepoint on Demand."  Hmmmm . . .that's an interesting concept.  More on that later.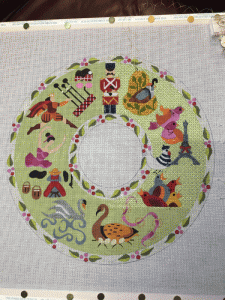 Here's what I've done so far.  Trying to plow through the background.  It's so much easier to do these open stitches when you can count through unstitched canvas.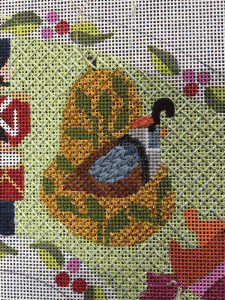 I didn't get to finish the beading on the pear yet.  It was my little guy's 9th birthday this past weekend so it's been a little crazy in my house.
Give us a call at the shop if you would like to join in the fun.  Or you can sign up online.  If you sign up online, the price that is listed is for the canvas only.  We will contact you at a later date for the payment for the threads and guides.
I hope you join in the fun!  I have some fabulous things planned for this canvas.
203-210-5107