We have a packed schedule this year of the wonderful events and classes at The Enriched Stitch.
We're closed this week, but you can email me to sign up for "Get Over the Hump" or the Whimsical Wreath Class.  No registration required for the other events.
January  Classes and Events
Get Over the Hump
 January 6th or 7th 10:30-12:30  $20 Class Fee
Bring in a canvas that you are stuck on and Suzie will help you get over the hump and on the way to finishing it!
Refresh Your Christmas Ornaments
January 7th 10:30-2:30
Before you pack away all your holiday treasures, bring some to the shop and Mary Susan will give you some ideas of how to refresh your ornaments.  She'll teach you how to make new bows to freshen them up.  Perhaps add some embellishments to spruce them up? Or maybe have them refinished by our fabulous finishers?
Lumber Exchange
January 7th 12:30-2:30
How is it that we end up with 10 sets of 9 inch bars in our stash but don't have 10 inch?  It's a mystery to me.  Bring in your excess stretcher bars, with the length written on the bar, and exchange them for another size.  You can swap them out!
Jump Start on 2017
January 13th or 14th  10-3
Get a head start on your gifts for 2017!  Come sit and stitch in the shop and we'll help you with whatever you need.  Finishing ideas, stitches, fun threads, gift ideas. . . we can help you!  Need some ideas for gifts?  Here's a few: ornaments, belts, pillows, wedding gifts, college or high school graduation gifts,  Christmas stockings or cuffs, key fobs, the list goes on and on! No fee.  This is FREE!!!!!!
Whimsical Wreath Class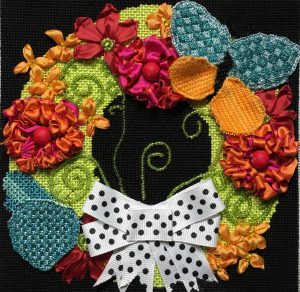 January 27th 10-2
Be the first to take a class offered to people in the trade a week after the TNNA Winter trade show.  What makes this class different is that the stitch guide for this darling piece by Melissa Prince is written with three levels of difficulty for you to pick and choose.  Don't fret about the black background.  It's black thread on white canvas so it's easy to see. Or, you can choose a different color.  This class is packed with techniques for a stitcher of any level, from late beginner to advanced.
Introduction to Working with Silk Ribbons 
January 28th 10-12  $40 class fee
Introduction to Beading 
January 28th 12:30-2:30  $40 class fee