Mary Susan just finished up her piece for our Needlepoint in New England retreat in April 2018.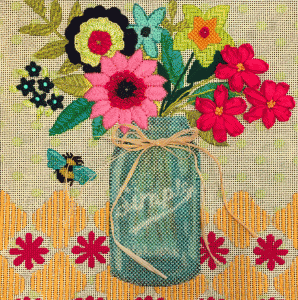 This piece is stunning in person.  The entire jar is beaded and just glows.  Don't be intimidated by that.  It's Brick Beading so it goes fast.  But what she's done to change the colors will blow your mind.
Her ribbon work is exquisite.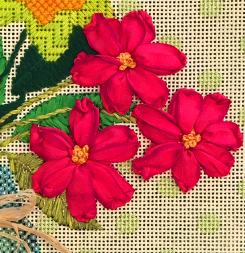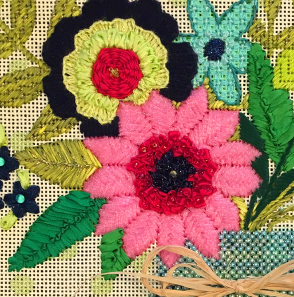 You'll learn a lot from Mary Susan in this class . . .ribbon work and beading just to name a few.  She's even got something going on in the leaves that I had never seen before.  She's on fire with this piece!  And wait till you see what her and Linda have picked out for finishing it in to a pillow.
 If you were thinking about coming, don't wait too much longer.  All of the pieces are almost done and the classes are getting full.
For all the details about the retreat, hop on over to the website.
You can sign up online or by calling the shop. 203-210-5107
I better hurry up and finish the background on my Santa!