Becki has outdone herself again with the Rooftops of London canvas by Abigail Cecile!
 I don't know which piece I like better . . .Paris or London.  Both are magnificent.
A few weeks ago I was talking with Becki about the London canvas and was asking why she used certain threads in places.  She pointed out that the sun is setting or rising on the right side of the canvas.  So she used threads that accentuated that concept.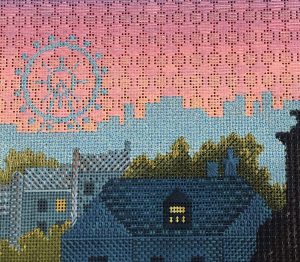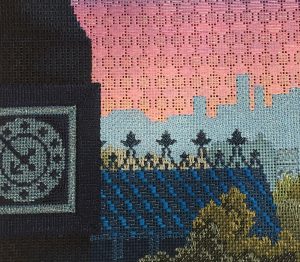 See what I mean of how differently she worked with the source of light on each side of the canvas.  Very cool.
I know a lot of people are waiting for their kits they preordered before the piece was finished.  They're coming soon . . .I promise.  We have more canvases on the way.  So if you're interested in a kit give us a buzz at the shop. 203-210-5107
A number of people have asked if Becki is going to do a guide for the New York City rooftops in this series.  I don't think that is going to happen.  But I'll let you know if it does.  Becki has a strong affinity for  European cities.  And she's got her hands full stitching on her piece for our retreat next April.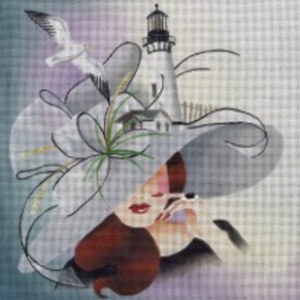 What I've seen so far on this piece is amazing.  I can't wait to see what she does with it!