It's been CRAZY since I got back from Dallas!  I had no idea what an endeavor it would be to purchase a design line.   But things are under control now.
At Dallas we stopped at the Point 2 Pointe room and had ourselves a little shopping spree.  If you aren't familiar with this company, they do self finishing (gasp!) canvases that come with the finishing product.  They have cuff bracelets, pendants, wine charms, coasters, bottle stoppers and cufflinks.
So on Saturday I treated myself to some stitching time at the shop, 21 minutes to be precise and stitched up a pair of cufflinks for my husband.  Yes . . .it only took 21 minutes.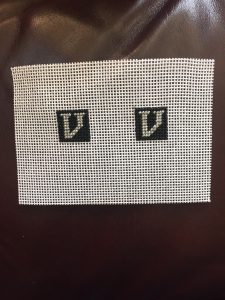 I was dreading finishing them myself.  But then I watched the video that the company provides on their website and didn't think it was too hard.  And it wasn't.
Sure it takes some fussing with but it wasn't bad. I just noticed in the picture that a little white canvas is showing on one of them.  Thank God for Sharpies!
So Saturday night my husband and I were out to dinner with some friends and he mentioned he saw needlepoint cufflinks in a store earlier in the day.  He was on his twice a year shopping trips.  . .once for my birthday and the other for Christmas.  All I could do was laugh when he brought this up.  I was going to save them for Christmas but how could I not tell him that I just stitched them for him that day.  He's a good husband noticing needlepoint products in gift shops.
Check out the Point 2 Pointe website.  I'm sure something will tickle your fancy!