I wasn't able to share the lovely Serafina before the Dallas show, since she was top secret.  But now she can make her debut!
Leigh designed the series, "Witchy Women" for the the Dallas show.  I am so honored to be in Leigh's secret stitchers group.  I am among the company of Pat Miller, Jane Wood, Sandra Arthur, Carolyn Taggert and Sharon Quick.  Quite the crew!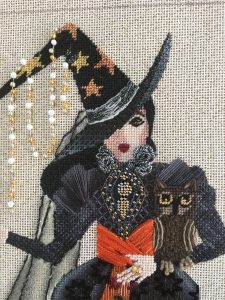 This was such a fun piece.  But boy was it challenging!  But I like a challenge.  As that's what Leigh's pieces do.  Sometimes a little too challenging.  Yes Leigh . . .I'm speaking directly to you. LOL!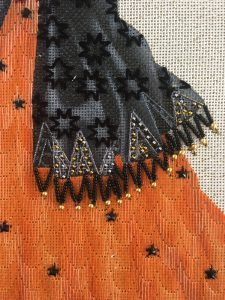 I found these really cool black Swarovski crystal stars to put on her dress.  Thank god they were the right size!
Serafina is available as a kit at The Enriched Stitch.  She measures 8 x 14 on 18 mesh (really cool I might add) canvas.  The canvas has a gold metallic thread running through it.  No background stitch for me!
The guide is also available to retailers through Leigh Designs.  There are 8 ladies in total.   I can't recall who stitched which of the designs, but there are five or six of the ladies stitched with guides.  Leigh's website has all of the details.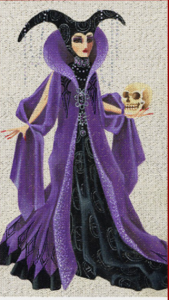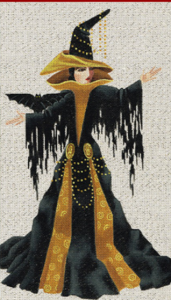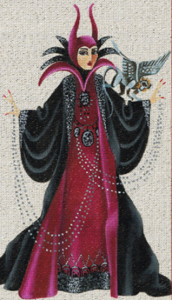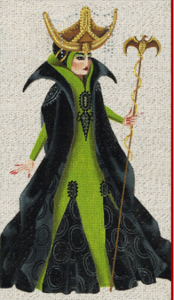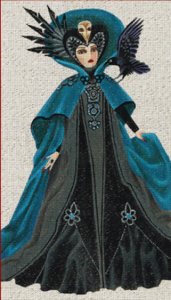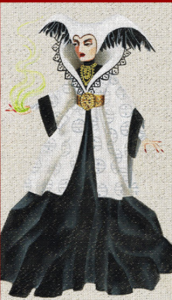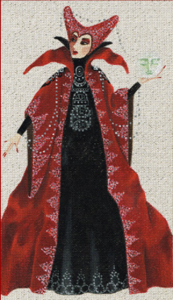 Give the shop a call if you'd like to order a kit or for more information. 203-210-5107