A month or so ago I shared with you that my son is Autistic, which was a really hard blog for me to write, if I'm being honest.  I designed a canvas to support the charity Autism Speaks.  I think it's important to do whatever we can do to raise awareness for any cause, whatever it is.
Last week I received my Autism heart back from the finisher.
She did a bang up job!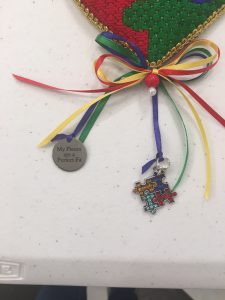 I found these adorable charms on Etsy to hang from the bottom of the heart.  We have a limited amount of the charms for the finishing in stock.  So, if you want those, now is the time to order.
You can order online or by calling the shop. 203-210-5107
I'd love to hear your suggestions for other causes and charities that I can design a canvas to benefit that charity.