World Autism Awareness Day is April 2nd.  I haven't shared this publicly but my son is Autistic.  He was diagnosed in kindergarten.  We are very lucky that he is on the extremely high functioning end of the spectrum.  He would be classified as Aspergers, but that classification was done away with a few years back and is now grouped under Autism.
 He is, and always has been, a happy child but extremely quirky and wildly intelligent.  And I'm not saying that just because I'm his mother.  He spends the summers at the store with me and will come down and chat with customers or make a ton of noise upstairs in our classroom, building something or whatever it is that he does. LOL!
Fortunately, we have received so any wonderful services through his school.  Not all children with Autism receive enough services.  Seeing as how fortunate my family is, I thought I'd paint up a little canvas where a portion of the proceeds will be donated to Autism Speaks.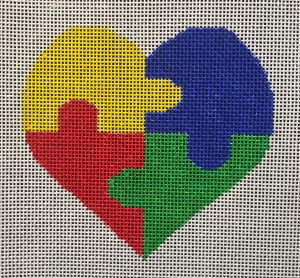 Since the paint just dried, it will be about 6-8 weeks before I receive more.  But you can go ahead and order a canvas in our online store and we'll get it out to you as soon as we can.  The heart is about 4 x 4 on 18 mesh canvas.
I'm sure there isn't a person reading this who's life hasn't been touched by Autism in some way.  So let's do our part to make a difference!  What a wonderful gift for someone in your life who has been impacted by Autism.