I was stitching last night when my husband came home from work.  Shocking . . .right?  He came over to say hello and looked at what I was doing and said "That's not needlepoint.   That's that other thing."  To be honest, he looked a little scared like he thought I was going to pick up another addiction.
I was making stumpwork hydrangeas on embroidery cloth and working on a circular hoop frame.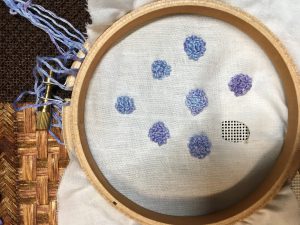 This is a really cool and fairly simple technique.  I did Colonial knots in little circles, about dime sized, on a piece of muslin.  You could also do French knots. But I like the rhythm Colonial knots.  If that doesn't make sense to you, that's a blog for another day.
Anyway . . .then you baste around the edge of the cluster of knots. Leave the tail of the thread long. Then cut it out of the fabric.  Make sure you don't cut the thread that you left hanging when you do this.  I cut the thread I needed to secure the cluster to the canvas with not once, but twice!
Then you pull the long thread and the cluster will form a little ball.  Secure it to the canvas.  And voila!  You have a hydrangea bloom!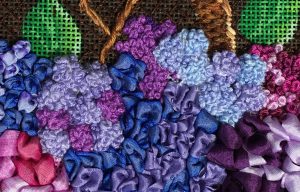 You can see this in the flowers that are done with knots.  Of course, the dimension doesn't really come through in a photograph.  I'll have to work on that.
I'm closing in on the first piece I'm stitching from my wholesale line.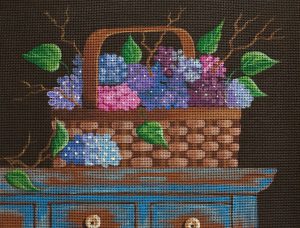 It will be finished this afternoon . . .come Hell or high water!
If you're interested in a kit, let us know.  I'll write up the stitch guide as soon as I'm finished.
What to stitch next?