Who doesn't love a quickie?  If you went there . . .get your mind out of the gutter lol!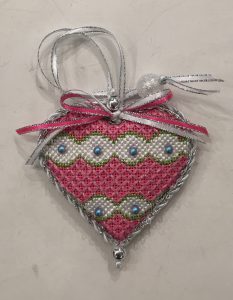 I stitched up this darling little heart by Amanda Lawford back in January when I went to California for the trade show.  Such a quick stitch that I finished it during the first flight.
Then I got home and totally forgot about this little cutie.  Of course, it was tucked inside one of my stitching bags and all it needed was some sort of embellishment.  I had ordered a bunch of Swarovski pearls for the hydrangea piece and found just the right thing for the heart.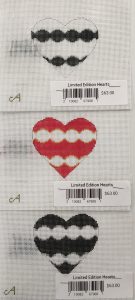 It comes in these three colorways, as well as the pink one that I stitched and a cream and white one, which would be perfect as a bridal shower gift.  Wedding bells are ringing in my family.  But that's a post for another day!