I have had my eye on this piece by Melissa Prince since the Dallas show.  When it arrived in November I decided to be a  good little shop owner and not take another piece for myself.  The night before the December sale at the shop I had decided I was going to put it aside for myself, but I forgot and a lucky customer snatched it up.  So, I ordered myself another one.
I promised Melissa I would get it stitched for the January show.  Why I do these things to myself I'll never know.  But, it was so much fun to stitch that a deadline didn't bother me.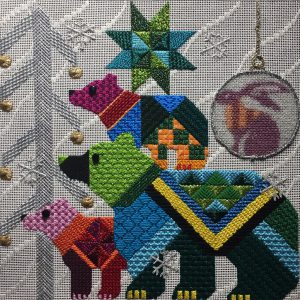 I designed the stitches for this piece for teaching purposes.  I thought it would make a great class for anyone wanting to learn stitches OR if you know most of these stitches ( I guarantee no one knows all of them since I made up a number of them), you can see how different threads look with the same stitch.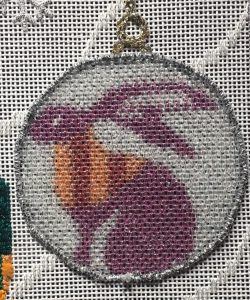 If you know me at all, you know beading is not my favorite thing.  But when it needs to be done, I'll do it.  To me, and Melissa, this isn't a real bunny.  It's a bunny ornament.  So, I used a cool beading technique with clear beads to create the ornament.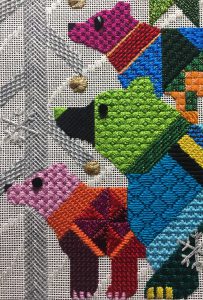 The other cool thing about this piece is that I took a stitch and did variations with it.  Sometimes I filled in an opening in a stitch and other places I left it open.  They look totally different, like the mommy and baby bears' heads.  I also enlarged or shrunk a stitch, which I think makes a piece look more cohesive, rather than putting totally different stitches all over a canvas.
So many people in the shop have asked if I would teach this class.  Of course I will!  Saturday, March 24th will be the date!  I'm squeezing it into our crazy schedule and I know many of you are anxious to take the class.  So, the trick is, you need to sign up really soon,  by January 27th, in order to guarantee a canvas for you.
You can sign up for the class online or by calling the shop.  If you can't make it to the class, but you'd like to order the kit, you can do that online by clicking here.
There are two different links so make sure you're clicking on the right one.  One is for the class and one is for the kit.
Now back to my regularly scheduled stitching for the show in less than two weeks.  AHHHHH!