Destination Dallas is quickly approaching.  The trade show starts September 9th.  This is my favorite show of the year.  It's held in an Embassy Suites type of hotel, where each designer exhibits in a hotel room.  Sounds a little weird I know, but it makes things so easy for buyers when we're lugging around tons of new canvases to bring home to our shops.  Also, there's always somewhere to rest your tired legs, unlike at the convention hall shows.  And boy do my legs get tired!
The theme of the show this year is "Murder on the Orient Express."  So Melissa Prince called me up and asked me if I wanted to propose her movie coaster as a class. I stitched that little guy up quickly and lucky us, our class was accepted.  This will be my third time teaching at this show.  I'm so honored that I was selected again.
I just love these movie coasters, as you all know.  I've stitched about 15 of them.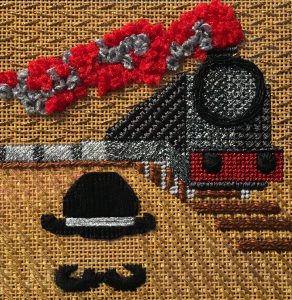 Before you ask, I did not miss stitches around the hat and mustache.  I did that intentionally to create the illusion of a face.
If you're interested in this piece, the stitch guide will be available after the show and we will have kits put together.
I'm so excited that Melissa's trunk show will be in the shop in September. If you haven't stitched one of these little 4 x 4 "candies" as I call them, you're missing out.
Many people have asked me to post all the coasters that we have stitched in the shop and have guides for.  I'll be sure to do that while her trunk show is here.  I just have to find all the pictures buried in my computer. Haha!
For now you can click here to take a look at Melissa's website and find a movie that you love.