I've certainly enjoyed my time off over the last week.  Managed to get away to Vermont for a few days with my family.  Got a lot of stitching done. Closing in on the Swirly Snowmen. Just have to add the finishing touches, then they'll be ready for the big reveal.  I'll have that project wrapped up just in time for the first class on January 12th.
But, I am anxious to get the shop back open tomorrow.  So many new things trickled into the shop over our hiatus.  We received snap trays and frame weights and a number of new books.
Needlepointing in Your Nest, Merry Needlepoint, Merry Easter: Carolyn Hedge Baird
Shapes 1, 2 and 3
Stitches for the Millenium: Brenda Hart
I anxiously awaiting my Christmas banner by Rebecca Wood.  I can't wait to get stitching on this piece.  This class is going to be such a blast!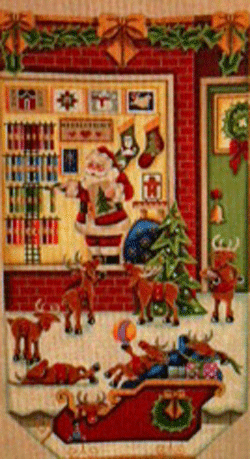 I'm also hoping that Kathy Schenkel has sent me a present.  The exclusive on the Victorian Caroler backdrop is over as of today. Hooray!  I think this canvas may deserve a place in the class line up this year!