It's the perfect time of year to stitch this adorable little heart.  Especially for all you beach lovers out there!  I know many of you are very excited to get started on this piece.  So . . .here we go!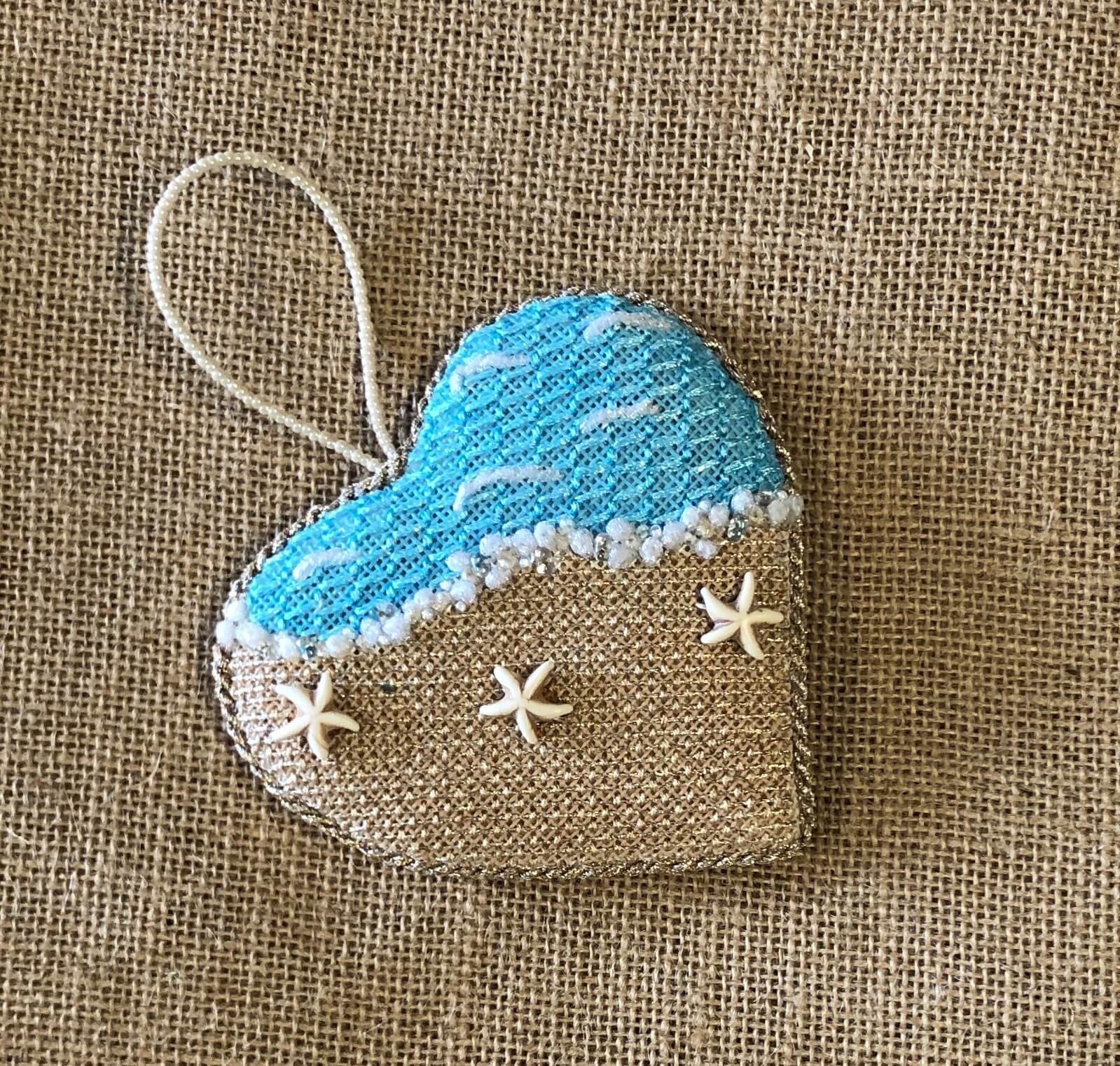 Let's start with the thread list
Thread List
Entice E246
Kreinik 8 Braid 212
PE 6-Ply Silk Beach V1306
Petite Frosty Rays: PY201 or PY218, PY217
Sundance Size 11 Beads #250
Berry Beads
3 Mini Starfish
Beading Thread: White and Tan
We're going to start with the sand.  Use Kreinik 12 Braid 212 for the white stitch in the diagram and3 strands of PE 6-Ply Silk Beach V1306 for the gray stitch in the diagram.  It's best if you lay one row of the Kreinik and then stitch over it, rather than laying them all at once.  With the three strands of the silk, turn one of the strands the opposite direction of the others to break up the variegation in the thread.
Be sure to follow the numbering in the diagram, working the top stitch like Basketweave.  If you work it vertically or horizontally, it will look different on the front.
Stitch over the starfish.  You'll sew them on as the last thing you do.
Let's move on to the water.
Use Entice E246.  Just one strand.  Follow the diagram below.  You can stitch over the waves.  We're gonna add them in after with Petite Frosty Rays PY217.
After you get the water stitched in, come back with PY217 and lay some long stitches or Stem Stitch the waves over what you have already stitched.
All that's left is the ocean spray at the edge of the water.  For this, you can do Colonial or French Knots or mixing it up is even better.  Use PY217 and PY201 to make the knots.  Add is a few of the berry beads and white beads to fill in the little open spaces between the knots.
To sew on the starfish beads, use one strand of tan beading thread doubled over in the needle.  Make sure get those suckers on really tight!
I hope you've enjoyed our first Stitch Along with Suzie!  If you're late to the game and you want us to send you a kit, we've got a few more left in stock.  Or, you can come back to this guide any time.  But, when we run out of the starfish beads and berry beads, that's all she wrote.  So don't wait too long!
You can join in the fun by calling the shop or click here to order in our online store.