Kelly just sent me a pic of the finished piece that she will be teaching at the shop in August.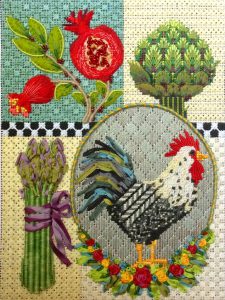 It is just stunning!  I can't wait to take this class.  And roosters do nothing for me.  You know I'm a bunny kinda girl.  Hint hint Kelly!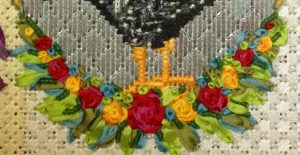 The ribbon work is magnificent.  Kelly texted me a picture of this the other day and asked me if it looked messy.  I told her she was nuts!
The class is August 9-11.  All the details are on the website.  We only have four or five more spots in the class so don't wait to sign up.  If you can't make it, we can always send you a kit.
The only problem with this class is going to be that I am going to have the worst craving for asparagus the entire time!