This weekend we were so lucky to host the amazingly talented Cynthia Thomas.  She is the author of "Noses, Roses and Other Fun Stuff" as well as hundreds of stitch guides. She stitches and writes guides for many designers, including Melissa Shirley, Maggie, Princess & Me, Rebecca and many many more.
If you have ever used a stitch guide, I would bet you've used one of Cynthia's.
On Friday she taught an adorable Melissa Shirley cupcake.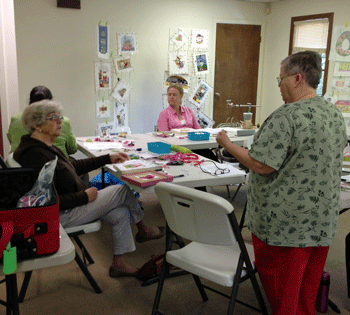 Debbie is listening intently to something very important while Iris is studying the stitch guide.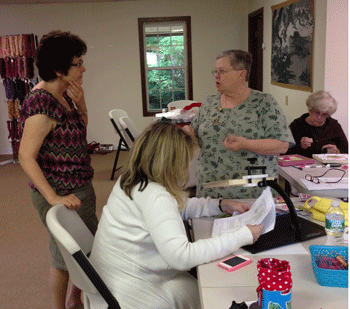 She taught the class how to make these beautiful roses out of wired ribbon.
Cynthia covered off canvas weaving for the leaves.  And, the icing on the cupcake, literally, is the pulled Silk Lame Braid technique.  How cool is that?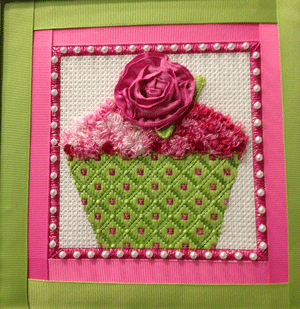 On Saturday she taught the Noses, Roses and Other Fun Stuff workshop.  This book is full of amazing techniques, from crazy things with O rings to beading a bead and much, much more.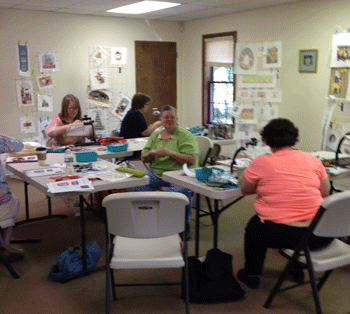 This is the infamous Aggie (orange shirt) who teaches and works at the shop on Saturdays.  Right now, she is best known for the beautiful peacock by Maggie that she stitched earlier this year.  Wait till you see what she has planned for the fall!  oh my!
What crazy things is she going to put on her canvases after hanging out with Cynthia?  I think we're all in trouble.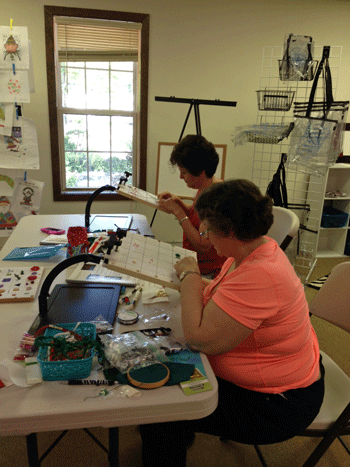 Debbie and Nancy came all the way from Albany.  Behind them is the Nancy Taylor and Suzie Vallerie Unfinished Gallery.  Look at all those WIP's!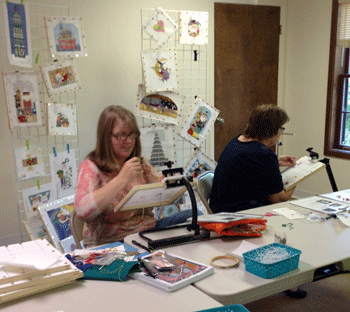 We look forward to Cynthia's next visit and teaching some of her amazing pieces.  Let us know  if we can send you a cupcake kit or her book.