Tell me what's wrong with this picture.  The other night I was stitching an Easter bunny, while eating apple pie and watching the movie Elf.  Think I've got my seasons confused.
I love stitching in season.  It doesn't happen for me very often any more.  Usually I'm stitching six months ahead of the game.  Right now I'm lucky and stitching away on Harvest Moon by Ewe & Eye.  I know, another piece from Ewe & Eye . .. what can I say? I just LOVE Karen Cruden's paintings.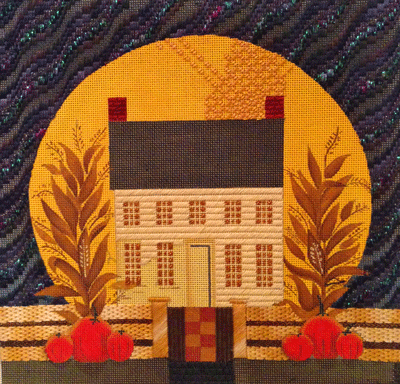 I see beaded pumpkins and whatever shall I do with the wheat shafts?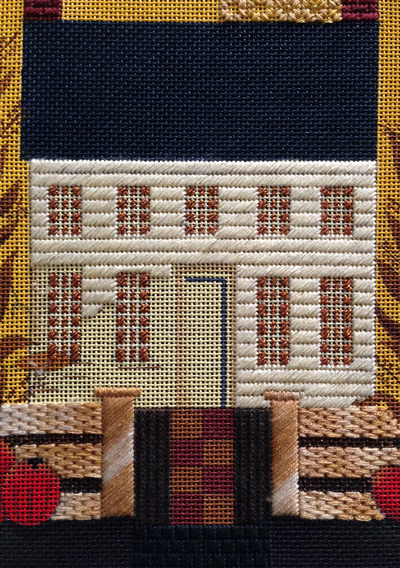 Now to add a little architecture to that boring door.  It definitely needs a doorknob.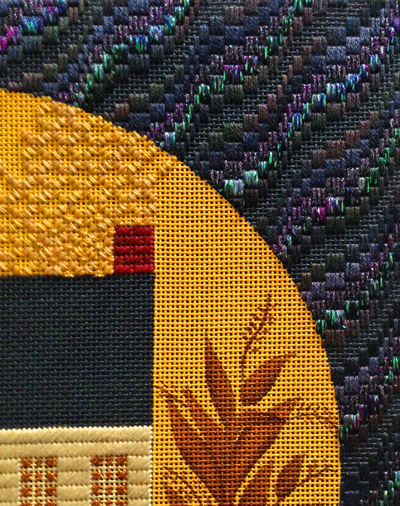 This is a close up of Becki's Bargello.  A few months back, Becki emailed a picture of a piece she was working on, the Golden Retriever from CBK.  I had never seen a Bargello pattern quite like that one.  She just blows my mind!
And what a way with color she has.  She pulled four threads and tossed them on the canvas.  I wasn't quite sure if this was going to be over the top for me, but I thought, "Bargello is easy to rip out."
Personally, I think the sky is amazing.  But it totally changed what I was planning on doing with the piece.  Everything else had to be heavier, to properly balance the piece.  The real trick is how I'm going to draw your eye away from the very strong sky.  Once I get the wheat/corn stalks (another debate) in and the moon totally stitched, you'll see what I'm talking about.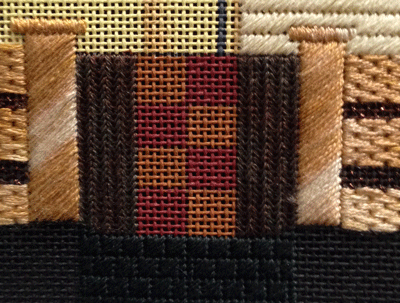 I decided this was a gate and that the pathway was on the bottom.  There was much debate over this mystery section of the canvas.  Aggie said the red and brown squares were a walkway.  I thought it was a gate.  That's my story and I'm stitckin' to it.
Join me in class October 26th and November 9th 10-12, either in the shop or over the internet via Skype.
Call the shop or email to sign up or for more information.
Kits available for those who cannot attend class.
203-210-5107     enrichedstitch@gmail,com