Two weeks ago I was enjoying a wonderfully relaxing time in Block Island with my husband and son and my in laws.  Don't balk at that . . . I love my in laws.  We have gone to Block Island every summer for 15 years.  They've been going for 49 years!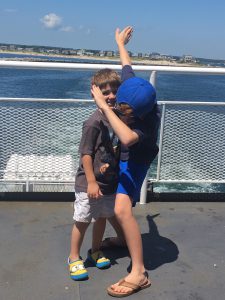 The ferry ride is always a highlight for the kids.  Friends of ours were taking their boat up for the week.  So, my husband rode up on the boat and his wife and son drove with us.  Leaving me to back the car on the ferry.  Always an experience.  And this parking spot topped it all!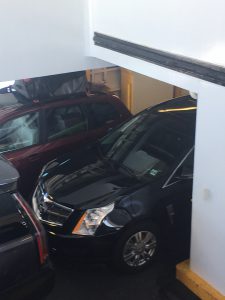 That;s my car squeezed in there.  No way could I get out the driver's door.  I had to crawl out through the back right door.  Getting out was easier than falling over the front seats.  To which when I looked up I had an audience applauding me as I made it back over the seat.  Let me know if you see that on Youtube.  Hahahahahahahaha!
We had beautiful weather and beached most of the days.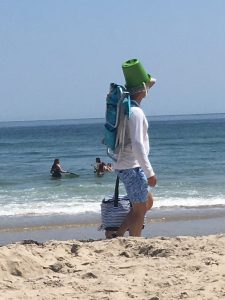 This guy cracked me up!  Brilliant . . .just brilliant.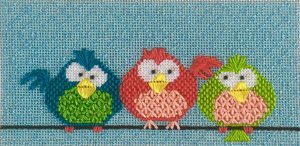 We did have a windy day and one rainy day.  So I stitched my little fingers off!  I finished this little piece by DC Designs.  It just makes me happy.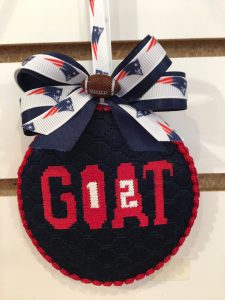 I also stitched the GOAT ornament.  It was so delightful to stitch something simple for once, that I could just stitch and not think.  It also helped I used Mary Susan's stitch guide. LOL
I stitched two other pieces on vacation that I'm dying to share with you but I can't yet.  One is a Leigh piece that is premiering at Destination Dallas next month.  I am so honored to be stitching for Leigh.  Another was one of the three pieces for the Go Red with Thread fundraiser.  Those pieces will debut in a few weeks.  Two out of three are done.  The last one will be wrapped up this week.  So stay tuned for that!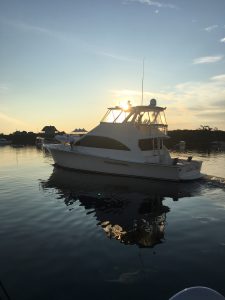 This is my in laws home.  Yep . . .I said home.  They have lived on this beautiful boat for 19 years.  So I would say our accommodations aren't too shabby.
If you're wondering about the ferry ride home, the parking situation was uneventful.  But we're never without drama.  Our friend's little boy cut open his chin and had to get seven stitches when we got home.  Never a dull moment!