While I was on vacation I did a post discussing the new thread Glisten.  It was suggested to me that I should do a weekly post discussing different threads which I thought was a great idea.  Apparently you all loved that blog and have asked for more.  So here we go!
Pepper Pot is the best selling thread at The Enriched Stitch by a landslide.  If you've never used it, RUN to your nearest needlepoint store and get some!
Pepper Pot is a single strand silk, comprised of three thin plies of silk.  DO NOT take it apart if you find the thread to be too thick.  I've done it.  The plies are too thin to be stitched with alone and they break apart.  So, use the thread as intended.
There are hundreds of colors.  And more colors are added all of the time. They've recently added over dye Pepper Pot to the line.  Almost all over dye threads are strandable.  And I know a lot of people are not fans of stranding.   I had suggested to Tracy, the owner of Planet Earth Fiber, that we're missing a single strand over dye thread.  So, last year at Destination Dallas, the company premiered a new line of over dye Pepper Pot and the Planet Earth Silk.  You ask and you shall receive!
Pepper Pot is intended to be used on 18 mesh canvas.  Personally, I find it too thick for 18 mesh and can Basketweave with it on 13 mesh without a problem.  But I have very light tension, so that might not work for most people.
If I were to have anything negative to say about this thread, is that it fuzzes up a but.  But that is the nature of these single strand silks.  They are tubular in nature and therefor cant be laid flat.  But, it is so easy to work with and feels great in your hands.
The color palette of this thread line is very diverse.  Many of the colors have a very gray base.  Which is probably why I think their grays are some of the best of any thread line.  Here's some of my favorite colors that I use frequently.
If you want to see the full line check out the Planet Earth website.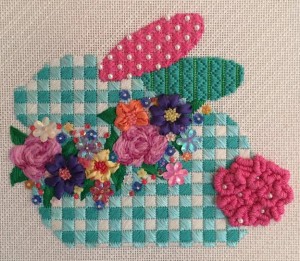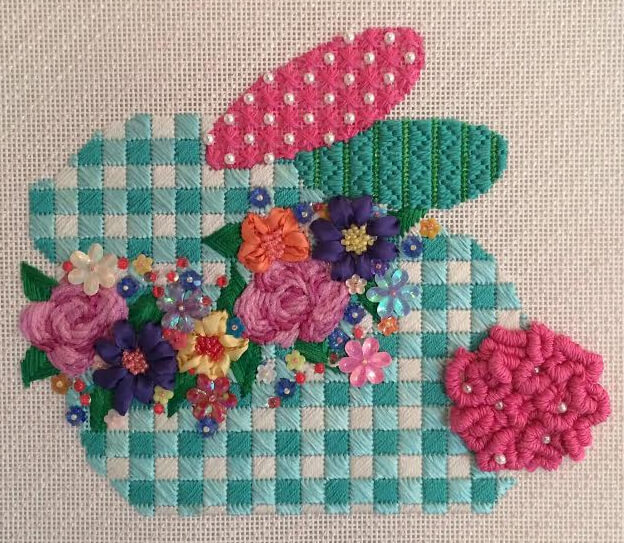 I used Pepper Pot on the pink and green ears on the bunny, as well as on the tail.  Bet you're wondering how I did that?  It doesn't look anything like that thread.  Remember when I said earlier that there are three plies that comprise the one sturdier strand of thread?  I deconstructed the thread and used it in a completely different way.  Who says you need to use a thread the way it was intended?  No fun in that!