I am so excited to reveal the  latest exclusive canvas at The Enriched Stitch.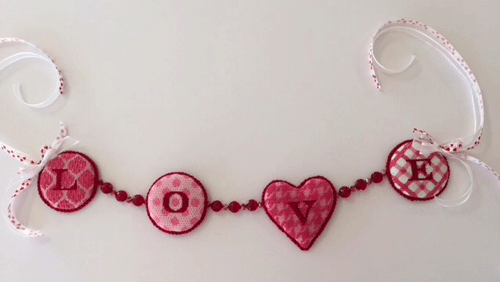 How fitting, right?  I've always wanted to stitch something for Valentine's Day.  But, I'm not really into little naked cherubs  or over the top Valentine's Day themed canvases.  So, Kate Dickerson and I got talking at the Dallas market back in September and we created this canvas.  Personally, I think this canvas could be displayed all year long.  I had the four letters made into a garland with ribbons on the ends so I can hang it.  Now I just need to find the perfect place.   Oh who am I kidding?  It's gonna live in the store!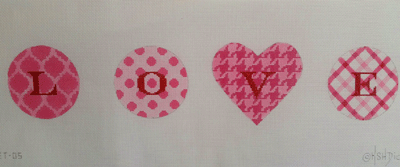 This canvas is only available through The Enriched Stitch.  The kit includes all four letters on one canvas, stitch guide and thread kit.  The stitch guide will provide a suggestion for the background if you would like all four designs to be finished on one piece, such as a pillow, stand up or framed.  I chose to stitch mine individually to make a garland.
The complete kit is $265, which includes the canvas, stitch guide and threads.  You can call the shop to order or click here to order online.
Happy Valentine's Day!