I fell in love with this piece immediately at market in January.  I was a good little shop owner and left it upstairs for a few weeks, waiting to be priced, knowing that I really didn't need to price it since I knew I had to have it.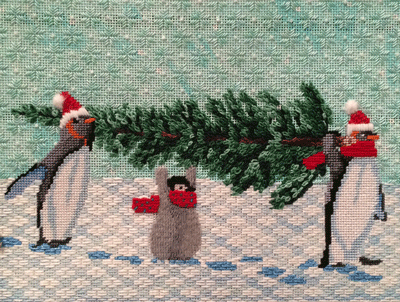 This piece reminds me of my family.  We've never cut our own tree down, but this is what we look like taking the tree out after the holidays.  I get the light end and my six year old is always trying to help.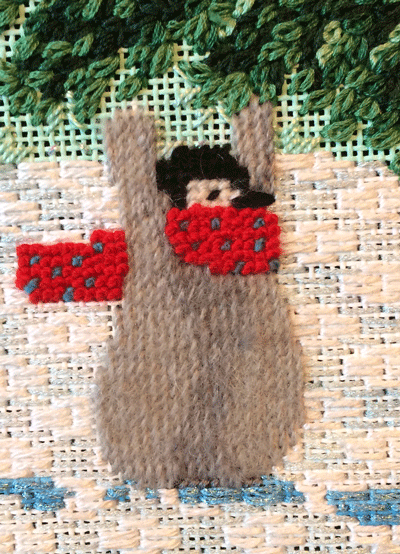 I still have to brush the baby more, but I think he turned out pretty cute.  Fluffy, just like a baby penguin.  I will advise you, do NOT try Turkey Work.  Been there . . .done that.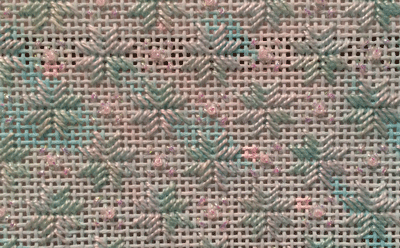 Here's a close up of the sky.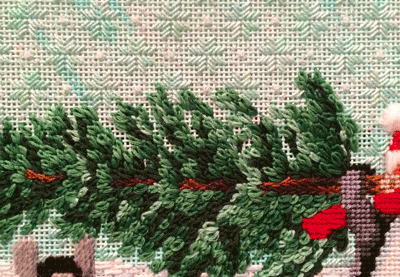 This was a lot of Lazy Daisies.  But I trudged on through.
 I started it on May 29th and finished it in 9 days.  What a quick and fun stitch!  Now I'm just waiting for the fabric and trim to come so I can send it off to our amazing pillow finisher.
I will finish up the stitch guide this week  I promise.
The canvas is $138.  Thread kit is $122. It is on 13 mesh and measure 9 x 12.
The stitch guide is included for free, as always, with the purchase of the canvas and threads.  But the stitch guide is also available individually for $50.
Call, email or order online
ADD LINK