Aggie just finished writing two new stitch guides.  We are very busy little bees here at The Enriched Stitch.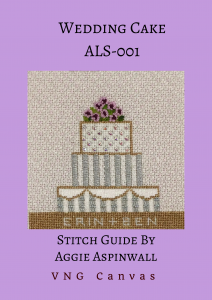 Do you have a wedding coming up this Spring or Summer?  Who am I kidding?  We all do!  This little 5 x 5 piece is the perfect stitch and you can personalize the bottom gold band with a name or date.  Clearly, Aggie stitched this for Erin and Ben. LOL!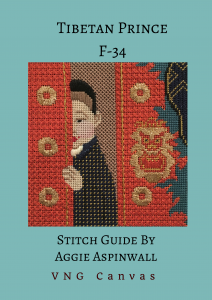 Aggie plans on making this canvas into a Mahjong bag.  She plays every Monday night and she takes it very seriously.  This canvas is 5 x  5 on 18 mesh.  This size canvas is Aggie's wheelhouse.  Probably because she's so tiny herself!
The wedding cake canvases are coming in soon, but we have plenty of the Tibetan Prince in stock right now.  We can put a kit together for you.  Give us a buzz!  203-210-5107