I'm so excited to announce the first online home study course with The Enriched Stitch!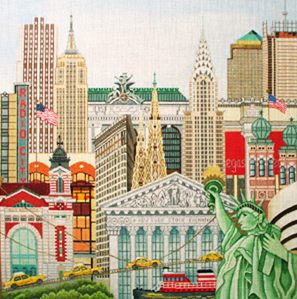 This canvas has been on my bucket list since I first laid eyes on it.  Growing up in Connecticut, I spent a lot of time in the city.  Everything from Broadway shows to Carnegie Hall to clubbing in my college years.  There's nothing like the energy and excitement of all that New York City has to offer.
So here's how it works.  Starting in September, you will be emailed a PDF of the portion of the stitch guide.  We will go building by building.  Seventeen buildings in total.  So yes . . .this will go on for a while.  But, it is a 20 x 20 canvas on 18 mesh.
You can purchase the canvas from The Enriched Stitch at 15% off the regular retail price of $860.  So that would bring it down to $731.  That's a huge savings!  If you already own the canvas and want to join in, that's fine too.  Each lesson will be $15.  You can either pay the entire class fee up front or we can send you a Paypal invoice each month.  We will have thread kits available with each installment that we can send with a paper copy of the stitch guide.
You can sign up online or by calling the store.  Please let us know if you would like the thread kits when you order.
203-210-5107
How this all started was that Patti (who works at the store) and I came up with a plan that we would work on this together.  We had to complete a building each month and the other person couldn't go on until both of us were finished.  A customer wanted to join in on the fun so we started planning it out last weekend.  But then I thought . . .why keep this just between the three of us?  Getting through a huge project takes encouragement (and competition for me lol).  Comments, questions and progress (Yes! There will be progress) can be posted on The Enriched Stitch Facebook page.
We have a number of online classes planned that I will be announcing within the next few weeks.  Don't worry . . .none of them are nearly as large as this piece!