What a weekend!  This past weekend I hosted the first Needlepoint in New England retreat.  So much fun!
Women came from all around the country.  I believe the farthest attendee came all the way from California.  We ate . . .we stitched . . .and boy did we laugh!
Linda did a wonderful job setting up the registration room.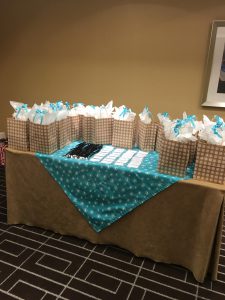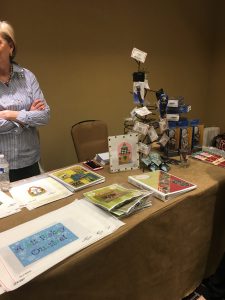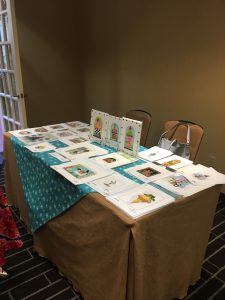 The cocktail party on Thursday evening kicked off the event.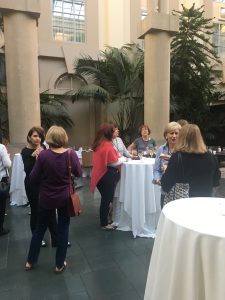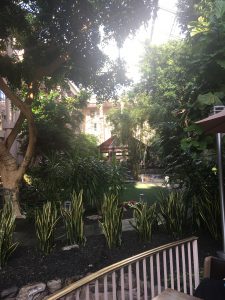 Hyatt hotels has a brand of wine exclusive to the called "Canvas."  Too funny!  Everyone thought I planned that.  I wish I had!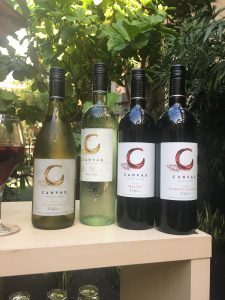 Classes started on Friday morning.  We offered six different classes, which I know you have all seen before.  But here they are again.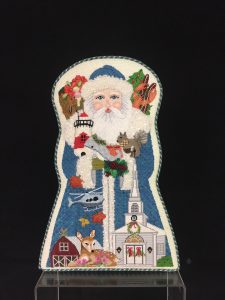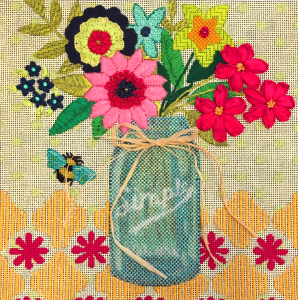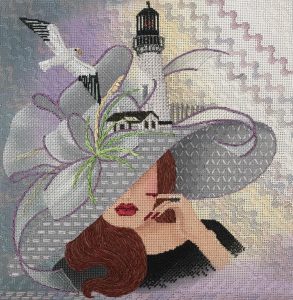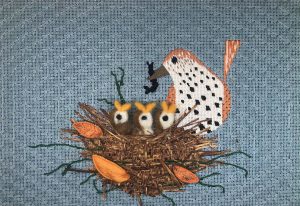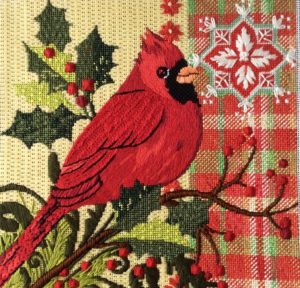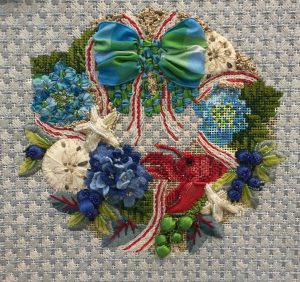 All the kits are limited editions . . .meaning that when we run out of the special embellishments we're out.  You can order the kits online or by calling the shop.
Classes started Friday morning.  Despite a few glitches (there always are and that's a story for another blog), it was a fabulous day.  The lighting in each classroom was great, which is one of the reasons I picked this venue.  I didn't hear one complaint about the lighting, and we all know that is a needlepointer's biggest pet peeve.
Mary Susan and Becki were hard at work . . .so they say.  Their classroom was the loudest of all of the classes.  They were laughing away all weekend.   They were having a ball!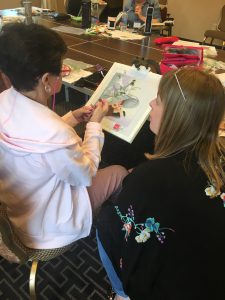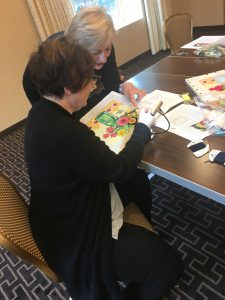 Meredith's class was hard at work.  Making stumpwork leaves and all sorts of cool things.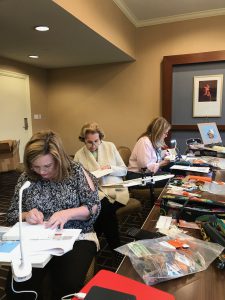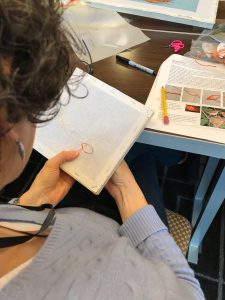 I know Kelly's and Sandra's classes were working hard, as well.  I just didn't get a chance to take  any pics.
My class was a bunch of slackers.  JUST KIDDING!  Heather, Grace and Karen had a ton of techniques thrown at them since there were so many aspects of the Santa. We had a hiccup with my class.  I mistakenly ordered the wrong canvas number.  I found out two weeks before the retreat that there weren't canvases for my class.  I could have just about died.  So, I spoke with everyone in the class and offered them any canvas from my wholesale line, free of charge with all the threads and that we'd do embellishment.  We covered nearly 2/3 of the techniques used on the Santa by working on other pieces.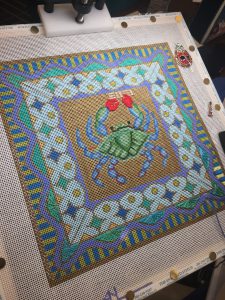 Heather worked on the Blue Crab by Amanda Lawford.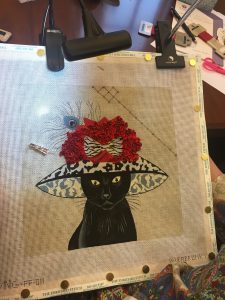 Grace worked on the Cat with the Big Black Hat from Vallerie Needlepoint Gallery.  Now she has to find a cool ribbon to make the bow.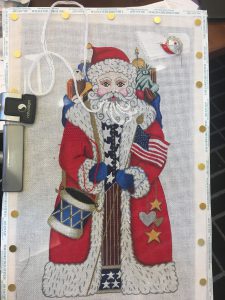 Karen clearly loves her Amanda Santas.
I can't wait to see these finished.  I'll write up the guides for the pieces at some point.
So, to continue the story, I had my painters overnight the canvases on Friday of the retreat.  They were supposed to be there by noon on Saturday.  But, the post office being the post office, they didn't show up until 4 o'clock.  Argh!  When I got the text alert later that afternoon when we were all at the shop everyone cheered.  Phew!!!!!
I think that's enough drama for today.  Be sure to check back here to see what happened the rest of the weekend!