So many people have requested that I make Melissa Prince's 12 Days of Christmas wreath a club.  Your wish is my command!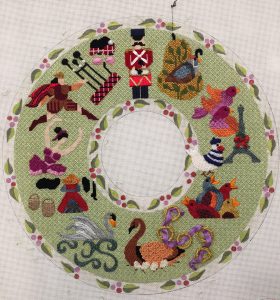 Have you ever wanted to stitch a 12 Days of Christmas series but shied away because of the price of twelve canvases? If so, then stitch along with us in our newest club! One canvas . . .4 installments.
This design is so versatile! It can be finished as a wreath, a table top tree skirt or a votive candle holder. One canvas . . .one finishing . . .you can't beat that!
Melissa's favorite part is the bagpiper.  Check out the cheeks!
I'm torn between the French hen and the dancing lady as my favorite.
Linda made these fabulous rings for me.  I promise it's not as hard as it looks!
I still have to finish the background.  But I'm in the home stretch.  Wait till you see the crystals I've ordered for the holly berries!
Club starts in late July/early August 2017
We will ship you the canvas, threads for the first half of the stitch guide and the first installment of the stitch guide. The second month you will be emailed that portion of the guide. On month three you will receive the remaining threads and guide. And on month four you will receive the guide via email.
Canvas: $195
Complete Thread Kit: $330
Stitch Guide Installments: $20 x 4
canvas by Melissa Prince
stitched by Suzie Vallerie
14 inch diameter on 18 mesh
sign up by May 28th to ensure there is a canvas for you!