Summer has been so wonderful.  Down time for stitching.  None of the hectic running around with school.  I'm not looking forward to August 25th when school starts again.  Neither is Trip.  I've been able to stitch my brains out!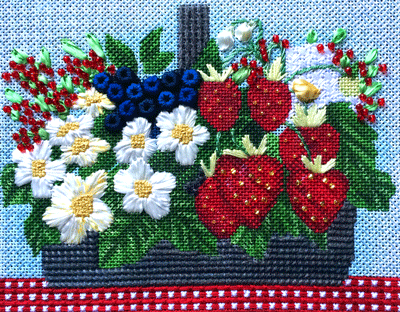 I started working on this Melissa Shirley piece about 3 weeks ago. Such a fun stitch!  I loved this piece when it first came in back in February, but a customer snatched it up.  How dare she!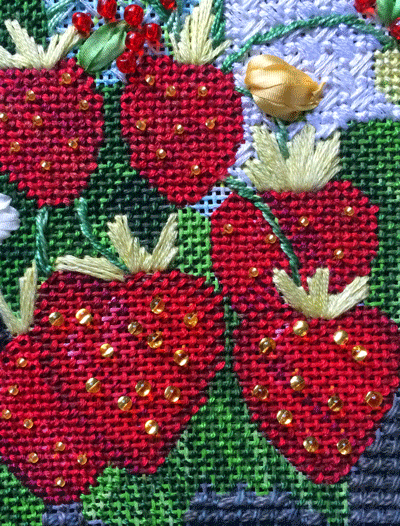 I used some drop beads on the larger strawberries.  I love to find a reason to use those beads.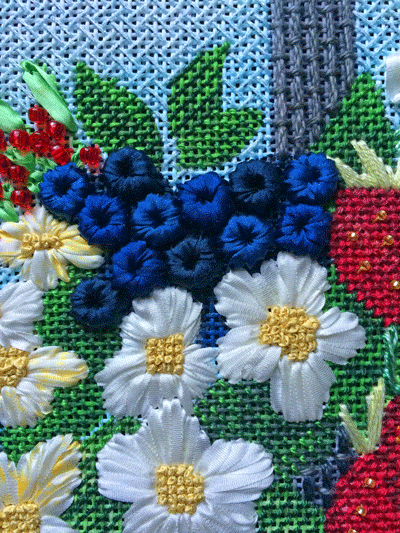 The blueberries were tricky.  Washers were too big.  I happened to come across just the right thing in our bling box.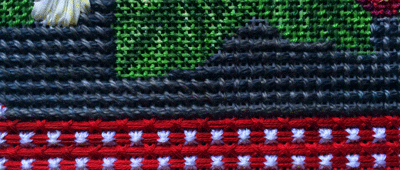 Nothing could be faster than stitching this basket.  I tried the gingham stitch on the tablecloth, but it just wouldn't fit the count.  I hate when the happens.  So, you just have to find another way to create the same look.
Canvases are on order and the stitch guide is written.
Call the shop to order or order online.
Canvas:  $182.  Thread kit:$115  Stitch guide is included for free with the purchase of the canvas and threads.  The stitch guide is available separately for $50.