No.  I'm not talking about the trunk show that is currently in the shop.  But if you haven't stopped by to see the myriad of adorable stitched models, you definitely should.
Yesterday we had a ball at the shop.  Linda (you all know the famous Linda from the Gingie and Mrs. Gingie blog) wanted my help with some ribbon work on a few pieces she's stitching.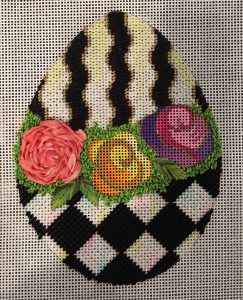 So, she's got me creating these ribbon flowers, Mary Susan is stitching another piece of hers because she says she can't figure out the stitch, and Becki is stitching some other piece of hers.  Linda's greatest dream came true that day.  She had her minions doing her stitching for her.  She was ecstatic!  I swear she had tears of joys brewing in her eyes.  But I agree, it would be awesome to have an army of stitchers.  But,  I think she's playing all of us. I think she claims to not know how to do something to get us all working for her. LOL!
The girls and I haven't gotten together in a long time and stitched.  And boy do I miss it!  There is nothing better than hanging out with your friends doing something that you love.  I can feel the energy that is bouncing around us with all of the creativity.  There's an excitement and rush that comes with that. And I just LOVE it!