I' going to start our by saying that I think that Kelly Clark is the best stitcher out there.  Her ribbon work and stump work are out of this world!  I took her class last year at the summer trade show.  And I'll tell you that Kelly runs such a relaxed and easy going class.  What a wonderful way to spend the day.
Kelly will be coming to The Enriched Stitch August 9, 10, 11 and teaching her Kitchen Rooster Collage.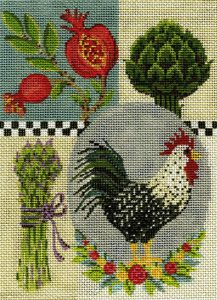 It is 5 1/4 x 7 1/4 on 18 mesh.  A perfect size!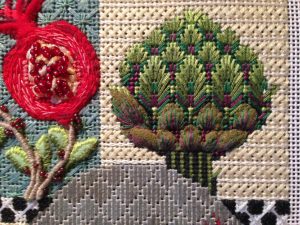 Class will be held over three days.  The third day will be a more relaxed day where you can go over whatever you need more help on.  OR . . .you can bring another Kelly Clark piece and she will give you stitch ideas for that piece.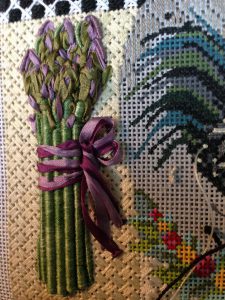 Look at those asparagus!  They look so real you could eat them!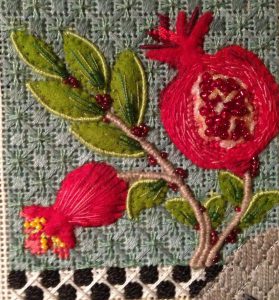 If you want to join us for three fun days of stitching, give us a call at the shop! But don't wait too long.  Kelly mentioned the class on Facebook this morning and the phone started ringing. If you can't make the class, we can always send you a kit.
203-210-5107