Unfortunately I don't have a vacation planned for quite some time in 2017.  Probably not until the summer when we usually go to Block Island.  But I have to say,  I am thoroughly enjoying my staycation between Christmas and New Year's.  So this got me thinking . . .let's plan a staycation at the store!
It's a big year for us at The Enriched Stitch.  We'll be celebrating our five year anniversary on March 17th!  I can't believe how time flies!
Join us for our first Enriched Stitch Staycation on March 18th-19th.  Maybe I should call it a "Stitchcation." Or an "Enrichation?" Who care what we call it?  It's gonna be a blast!
Here's how it works.  We're offering 5 classes for 5 years.  Choose from one of the three project options below to work on for two days.
Do you like Winter getaways?  Then this piece by Amanda Lawford is for you.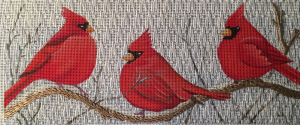 Looking for more of a Summer vacation?  Perhaps this design by J & J Graphics will entice you.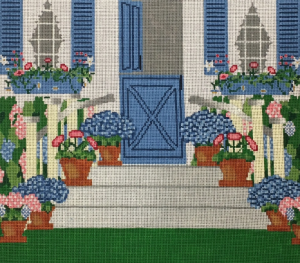 (If the door is bugging you . . .don't worry.  I've got a solution.)
World traveler?  Then pick two Kirk & Bradley travel rounds to work on one each day.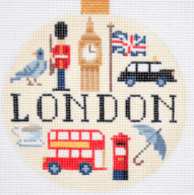 We've stitched a bunch of them.  But if there's one we haven't done that you'd like to stitch, we can definitely help you with stitches and threads.
In your registration fee, which includes lunch both days and catered cocktail party and dinner on Saturday night, you'll also get 2 FREE classes!  On Saturday there will be a class on working with silk ribbons.  And on Sunday there will be a beading class.
Registration is $150, which includes everything mentioned above and two days of instruction on whichever staycation destination you choose.  Canvas, thread kit and stitch guide are additional.  I don't have the pricing for the threads yet since the cardinals and the cottage are both works in progress.
Register by January 15th and receive 10% off your ENTIRE kit!  If you can't make the event, kits are always available.  The same 10% early bird discount will be honored for our long distance customers.  Obviously no class fee will be charged for kits.
We're closed this week but you can email me to sign up!