The Shorebird Designs trunk show is in the house!  Many of you may not recognize the name of the company, but I'm sure you've heard the name Kathryn Molineaux.  She was an extremely talented artist, not only in needlepoint but in other medias, as well.
I have made quite the pile for myself from the trunk show (like I usually do).  But, I started and finished one of the pieces last weekend and I'm on to my second.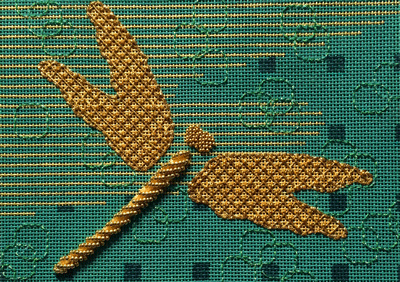 I just fell in love with this piece.  Probably because of the colors, or maybe because I had a vision of how I wanted to make this canvas come alive.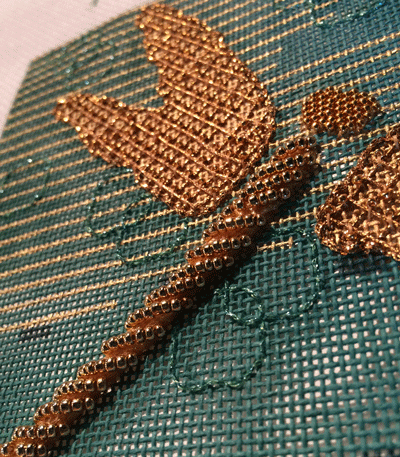 Yes . . .that is beads that you see.  And a lot of them.  I know . . .not my usual modus operandi. But, I am constantly pushing myself in terms of my stitching.  Always something new to learn. More on that on that in a future blog.  I'll tell you all about the adventure that Patti and I have embarked on.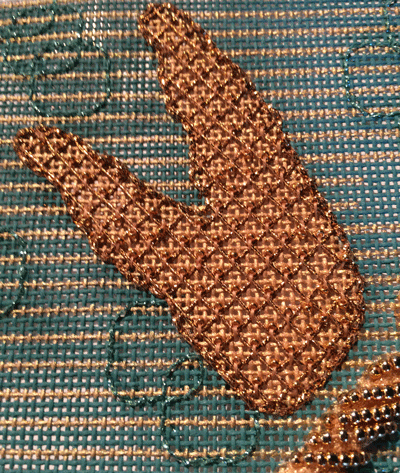 I've ordered gold trims and ribbons to create and elegant pillow.  I'll see what works when it arrives.  Now to find some fabric and then off to the finisher.
All the trunk show canvases are 20%. Check out the website to view her entire line.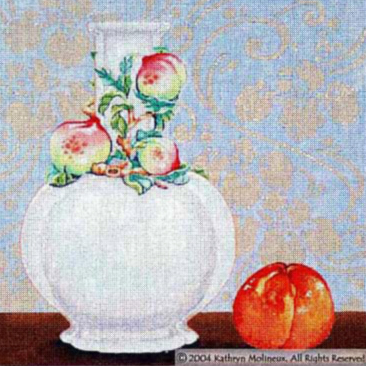 This piece is up next.  I put it on bars yesterday and have been stitching the vase.  Let's just say I've been doing some Bargello.  And you know how I love Bargello!