Thunder Series Class
Saturday April 14th 9:30-4
VNG launched a new teaching piece  . . .the Thunder Series
This piece was designed to teach stitches.  And you have your choice of four colorways.  So there's something for everyone!
You'll learn over 20 new stitches, how to read diagrams, work threads and stitches in the correct pattern, and SO much more!
Pick one design to work on during class!
Click on the name below the design to sign up for the class in our online store.  Or call the shop to sign up.
I had Summer and Fall made into pillows.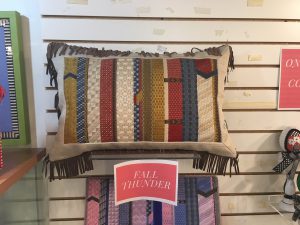 Winter and Spring were finished as giant coasters that fit into a custom made acrylic tray.  That way you can swap the insert out for different seasons.  And . . .actually use the tray because there is an acrylic piece that protects it.   And . . .the tray doesn't cost a fortune just because it's custom.  LOL!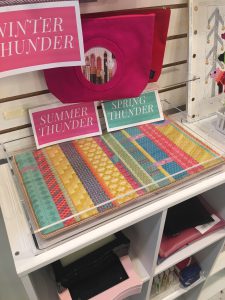 Canvas and stitch guide $195
Thread kits vary – approximately $200
Class Fee $65
Lunch included
If you can't attend the class we can pop a kit in the mail.  Click on the name below and it will take you directly to the online store to order.
You can sign up in the online store or by calling the shop.  Hope you'll join me!
203-210-5107