The Needlepoint in New England Retreat is a month away!  I can't believe its almost here!  I started planning this event almost two years ago.  Boy how time flies!
We have six fabulous classes that are being offered.  Let me tell you a little bit about what you'll learn in each class.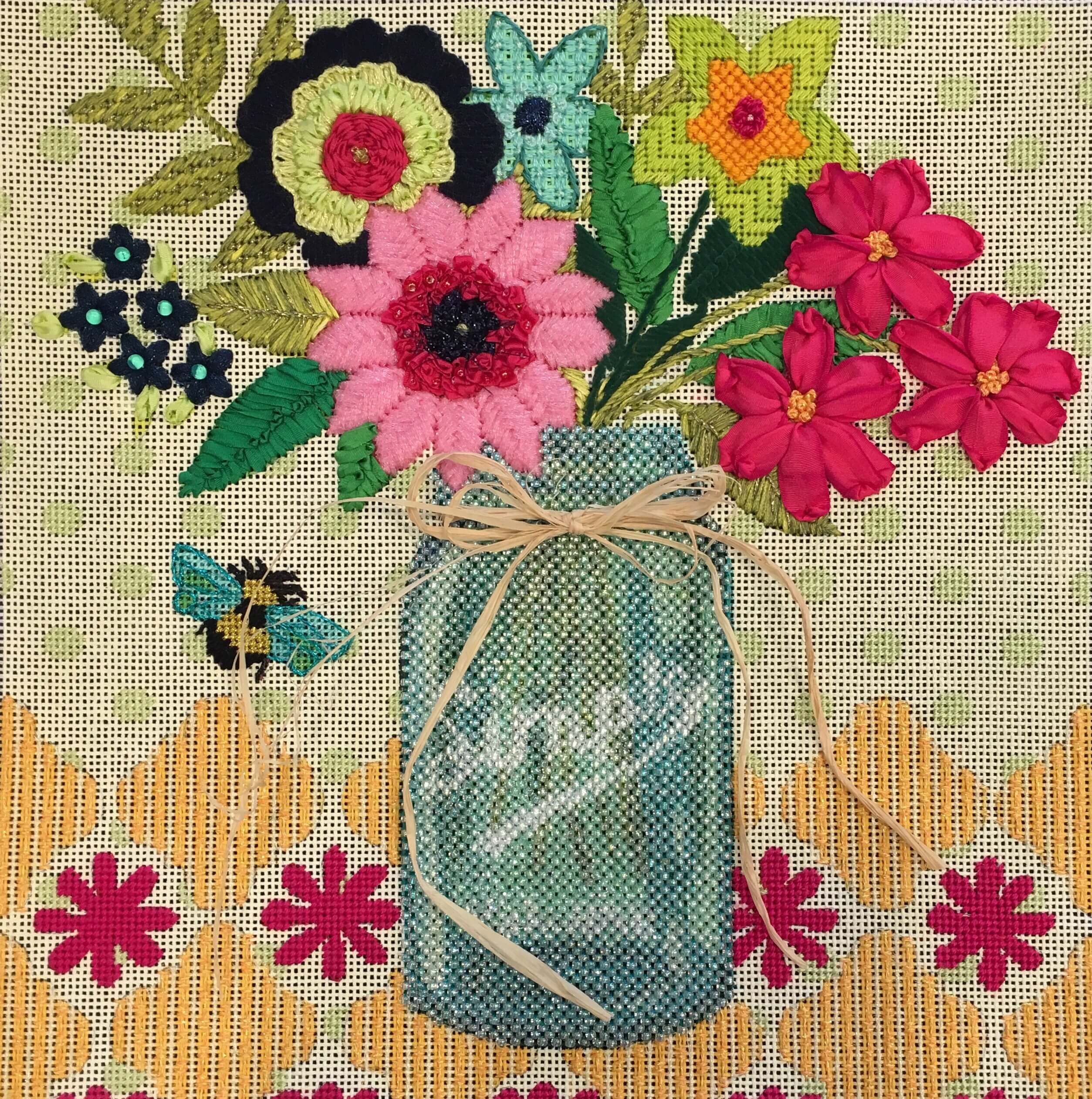 Mary Susan will be teaching this beautiful piece from Maggie.  It's 8 x 8 on 18 mesh . . .a perfect size.  There is ribbon work, a really cool beading technique for the mason jar, continuous Buttonhole and more.  I can't wait to see this piece as a finished pillow.  She has all the fabrics and trims picked out.  It's gonna be amazing!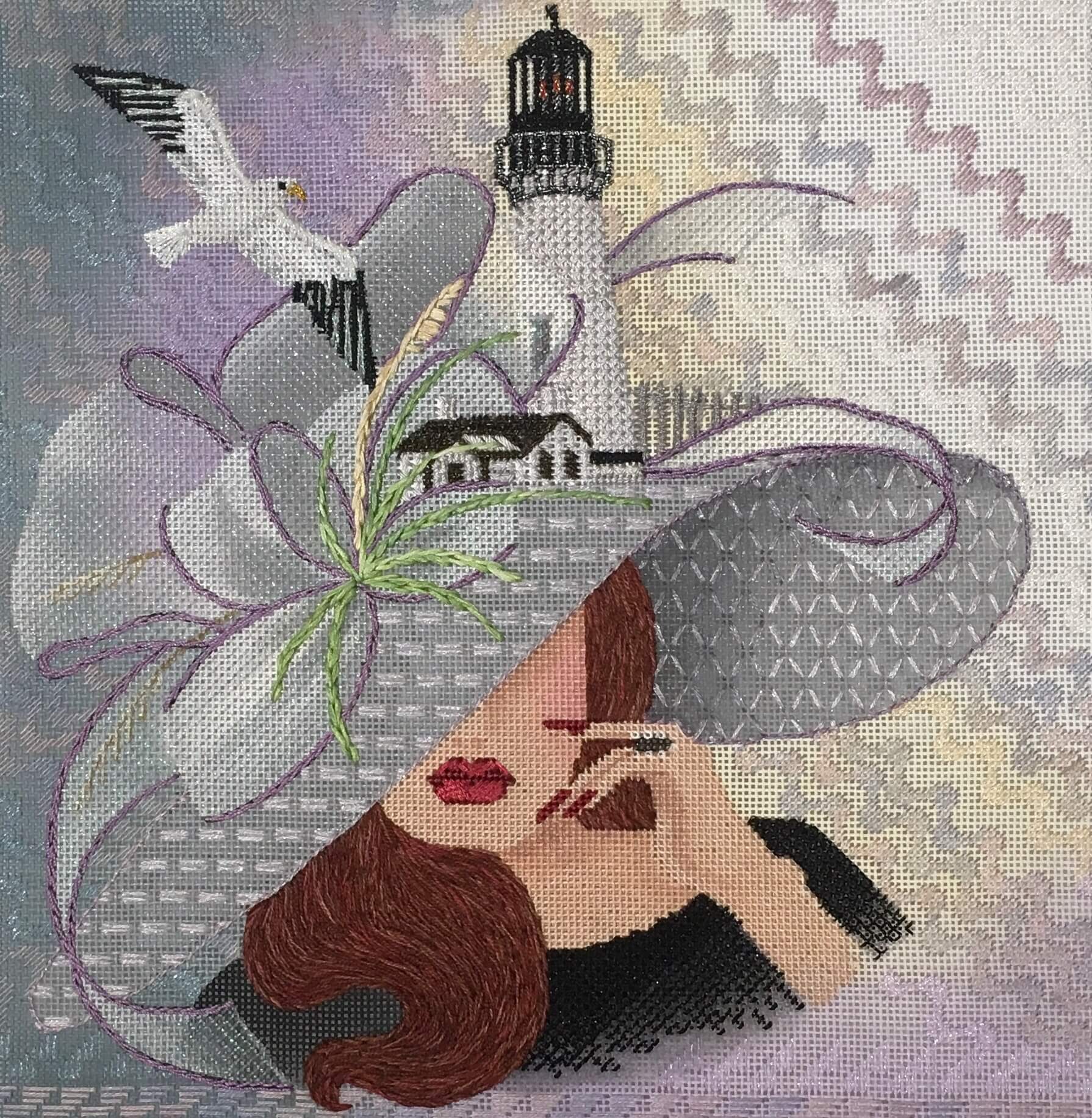 Becki Gebhardt is teaching "Stormy Weather" from Leigh Designs.  I love the movement  and the drama in this piece.  Becki has packed this piece with a lot of light coverage stitches.  If you know Becki at all, she wouldn't have it any other way.  But, what you'll learn is how to enhance a design that is so beautifully painted with open stitching and light coverage.  You'll become a master of packed stem stitch and working with Accentuate.  It's just stunning!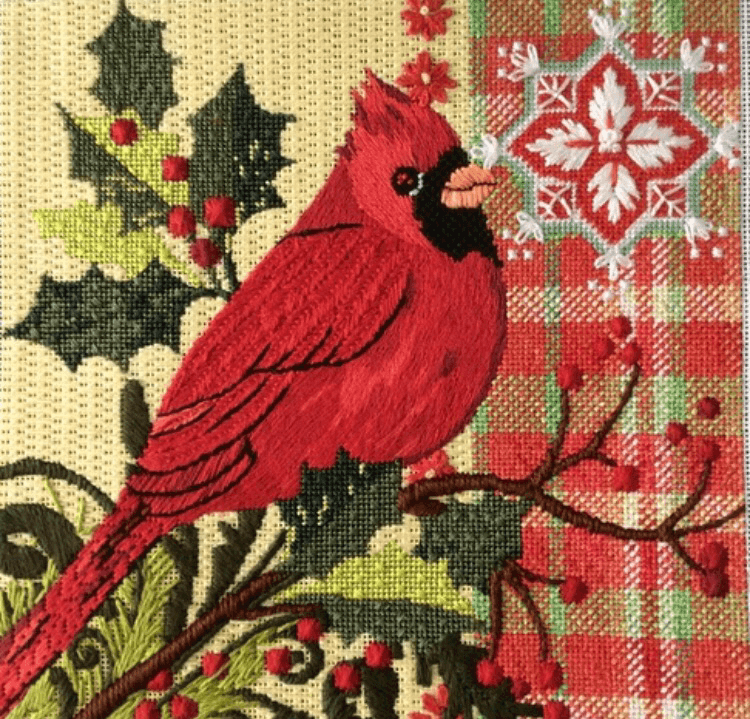 The amazingly talented Sandra Arthur will be joining us.  She will be teaching the Winter Cardinal by Maggie.  Another very manageable piece at 8 x 8.  Sandy hasn't taught on the East Coast too much.  So, this is your opportunity to spend three days with her. She's a Certified Master Teacher through ANG.  I took a class with her at the winter show one year.  Boy does she know her sh*t!  Wondering how she made the bird look so real?  Well . . .you'l have to take the class to find out!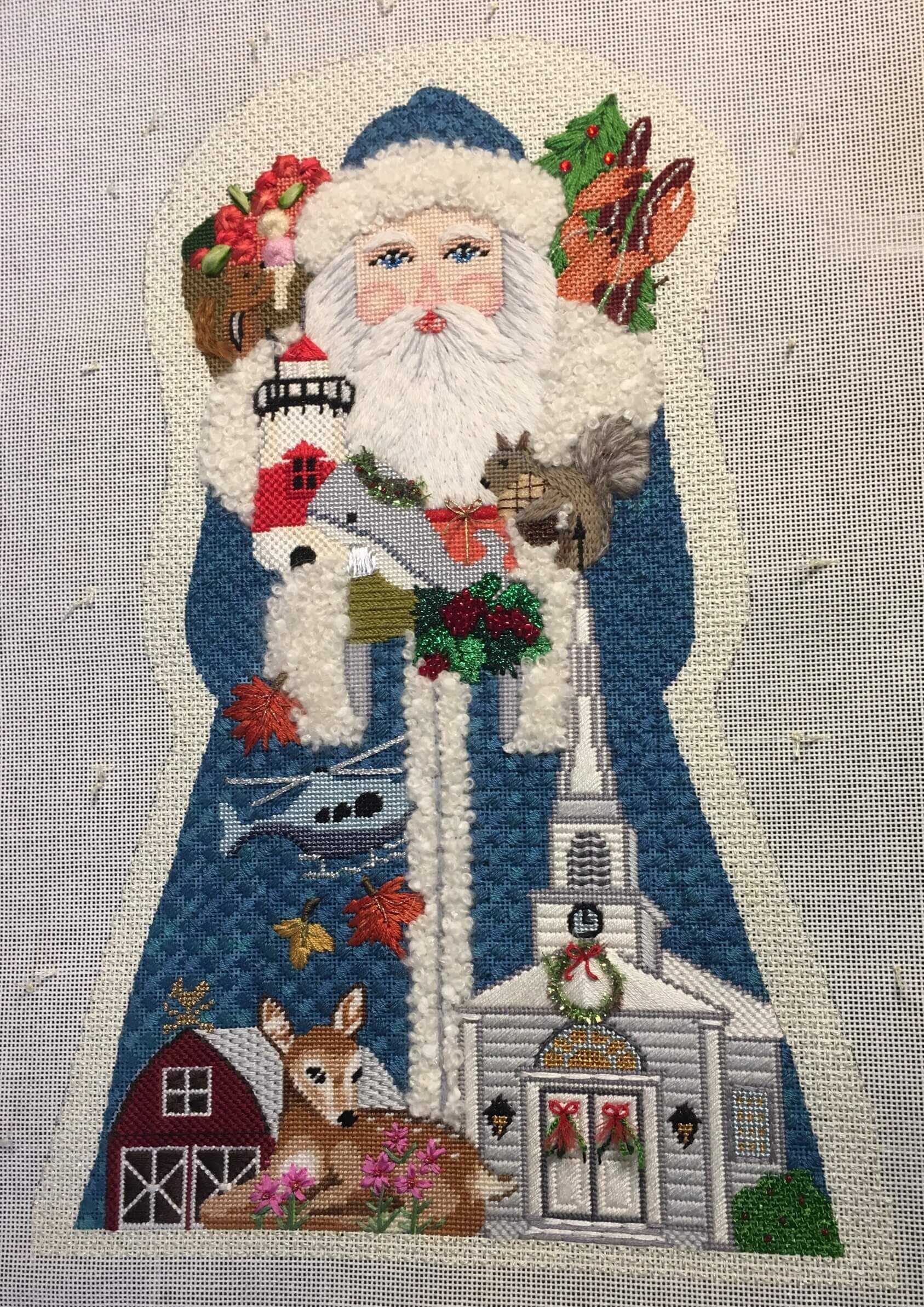 I stitched the New England Santa from Amanda Lawford.  You'll learn how to create a fabulous beard and fur, that you can translate to other designs.  I included some fun threads like Microchenille, which most people aren't familiar with.  I can't wait for him to come back from the finisher!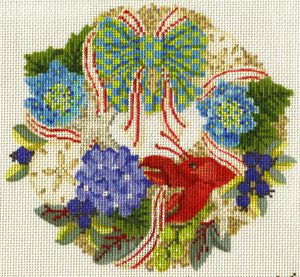 Kelly Clark will be teaching this adorable Seaside Wreath.  It's 6 x 6 on 18 mesh.  I can't wait to see what she does with it.  I'm sure it will be packed with lots of stumpwork, beading, some ribbon and who know what else Kelly will dream up!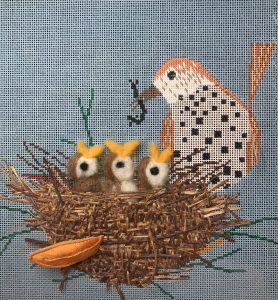 The Divine Miss M, Meredith Willett, will be teaching "Chorus Line" by Charlie Harper.  There's felting stumpwork and god only knows how she made that nest?  I can't wait to find out!
So come spend April 27-29 with us at the gorgeous Greenwich Hyatt in Greenwich, CT.  This hotel is amazing!  The entire first floor is a beautiful garden.  So cool!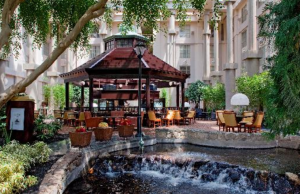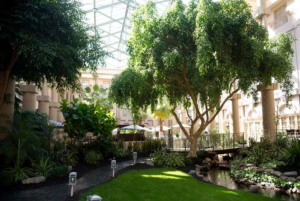 The entire hotel is like an old New England estate.  It's unlike any other hotel in the area.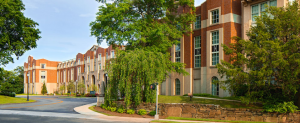 All of the classrooms have windows and natural light!  I know that lighting is one of the most important things for needlepointers.  I've got you covered!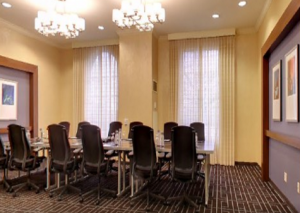 Greenwich has so much to offer.  The shopping on Greenwich Avenue, or "The Ave" as we call it around here, is like the Rodeo Drive of the Northeast.  There are tons of amazing restaurants, like Valbella.  If you used to watch Regis in the morning, I'm sure you heard him talk about that restaurant.  I've been there myself and it's to die for!
Greenwich is about a half hour outside of New York City, a quick train ride in.  The Enriched Stitch is about 20 minutes the other direction, so you'll definitely be able to check out the shop.  Saturday afternoon of the weekend we will have the store open later in the day just for retreat attendees.  We have a cocktail party planned for Thursday night, lunch planned every day and a banquet dinner is planned for Saturday night.  It's gonna be a three day party!
We still have a few spots in all the classes, so you'll be guaranteed your first choice.  You can sign up by calling the shop or sign up online.  Registration closes April 3rd.  So, if you've been thinking about it, join us.  It's gonna be a blast!  Treat yourself to three days of stitching  and relaxation.
203-210-5107