Fourth of July weekend is like Christmas for my husbands's family.  I guess it's the high holiday for boaters lol!
This weekend started back last Thursday on our 15th wedding anniversary.  I can't believe it's been fifteen years since we got married.  Might be time for an upgrade.  (Just kidding)
So Thursday night Ray, Trip and I went to dinner at our favorite restaurant on the water in the marina where my in laws live on their boat.  Yep . . .you read that right.  They love on a boat and have for 18 years.
Friday night Ray and I went out to a fabulous dinner alone at the restaurant in South Norwalk where we got back together 17 years ago.  I have to give my husband the credit for that idea.
Friday and Saturday were crazy at the store and then I had to scoot up to my sister in law's house for "Christmas in July."  (I wasn't kidding there.)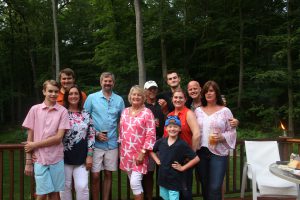 Ray's sister, Christine, comes up for the holiday weekend from Panama.  It's the only time of year we get to visit with her.  So it's a really big deal for our family.
I crashed on Saturday night by 10 o'clock.  I was shot.
Sunday we were off to the boat.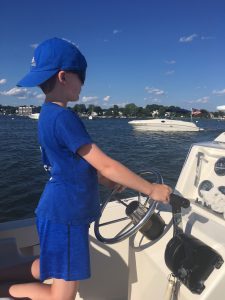 The boys spent the afternoon on the water and I hung out and stitched with my mother in law on her boat.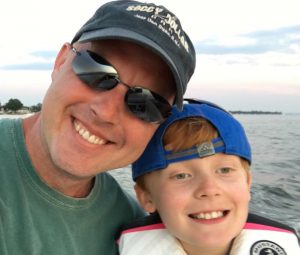 I got a little time to myself on Monday during the day since my husband was working from home.  Then off we went again to the fireworks.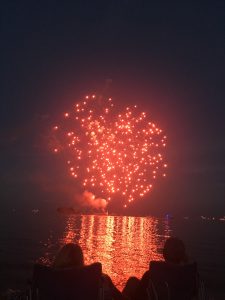 Tuesday we were off an running to our boat for another beautiful day on the water.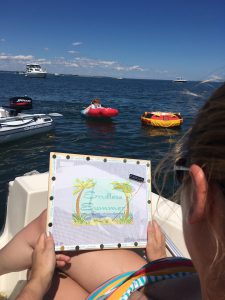 I'm not sure which view I liked better. . .my canvas or my little guy having a ball in the water.   I had to grab a Kate Dickerson piece from the current trunk show.  You know me!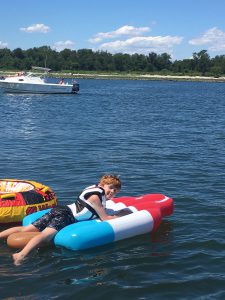 What a whirlwind of a weekend.  Not a lot of stitching time but so much fun!