Last week was CRAZY!!!!  Kelly Clark was in town teaching her three day Rooster Collage piece.  What a way to come back from my vacation.  Reentry was a little rough last week.  LOL!  But more on that later this week.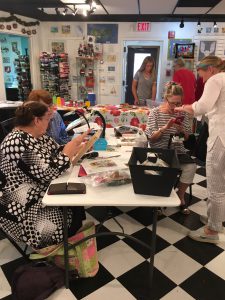 It was a packed class an boy did they work hard!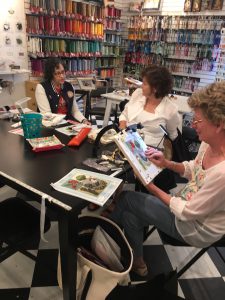 On Wednesday morning it was so quiet you could hear a pin drop.  Thursday morning brought some random stitches with silk ribbon.  I was ready to run across the street to the liquor store and pick up mimosas to relax them.  But they got it!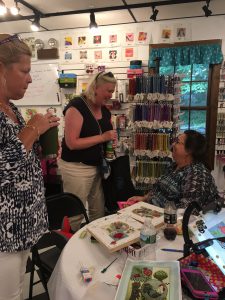 Kelly is so delightful and an amazing stitcher and teacher.  I can't wait for her to come back next spring for our retreat.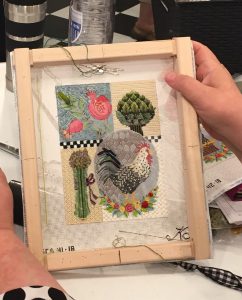 Katherine nearly finished her piece during class.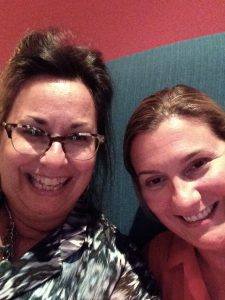 We enjoyed a few wonderful dinners out, with Margaritas of course!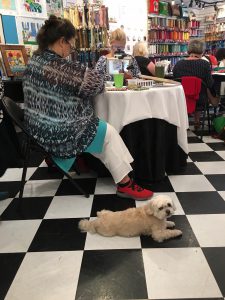 Even my little Bella hung around during class.  She looks very relaxed.  I guess stumpwork and ribbon work don't phase here!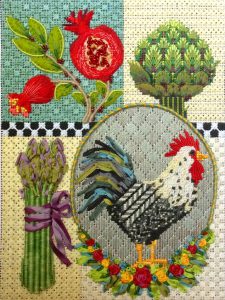 We have one kit left if you'd like to ghost the class.  The kits are only available through the class.  The stitch guide will not be publicly released till next year.  So, if you're thinking about it, don't wait!