We LOVE Colours of Praise at the shop.  Who wouldn't?  With the beautiful artistry and vibrant colors, these pieces really catch your eye.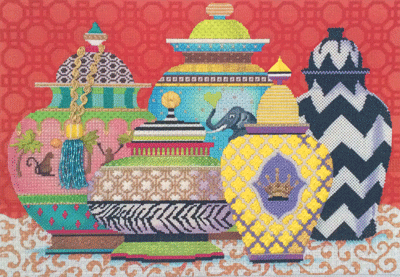 This canvas, stitched by our very own Mary Susan, is our newest online class offered through The Enriched Stitch starting in January 2016.
This piece is amazing!  The picture doesn't begin to do it justice.  Check out the beaded tassel!
There will be four installments of the lesson and will ship for four consecutive months.  The fee for each lesson is $25.
If you order the canvas before October 20th, before the trunk show leaves, you will receive 15% off the canvas.
Regular Price:$255   Trunk Show Price: $216.75
The canvas measures 19 x 13 on 13 mesh.
Already have the canvas?  Not a problem.  You can still join in the fun.  Give us a call to sign up or sign up online.
203-210-5107